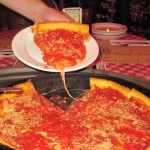 Since we were going to Chicago for the Cellar Diminishment Party anyway, naturally I had a list of potential restaurant choices for the following night. We would only be in Chicago for two nights, so that left us with two lunches and one dinner, plus the party. We landed in Chicago, hopped on the Orange Line L train towards downtown and immediately got a call from a friend. "Are you coming to the hotel before you go for pizza?" Indeed, we were.
After a quick check-in at the hotel and meeting our friend, we were off to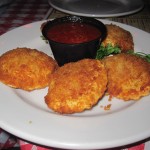 Gino's East. Most people in Chicago have their favorite of the deep dish pizza places, and will opine, loudly, on why their pizza place is best.
On our last two trips (in 2007 and 2009) we went to Giordano's (take out was clearly a bad choice – it got too soggy too quickly) and Lou Malnati's (friends in Key West get these shipped to them in dry ice), respectively. While I liked Lou's, I wanted to try something new. After all, this only happens once every two years.
At Gino's we ordered the pizza and our waiter told us it would take 45 minutes to bake, so we may want an appetizer. I was outvoted on the salad front and instead we indulged in some toasted ravioli, a Midwestern phenomenon that I have not had since college. When the pizza did arrive, it had garlic and mushrooms stuffed inside the giant pie.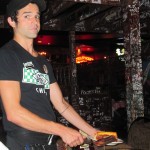 As a former New Yorker, I find it really hard to call this "pizza". To me pizza is thin and can be folded in half before being shoved in my mouth and scalding the roof of my mouth with the too-hot cheese. That being said, Gino's was good, although I found the crust to be lacking in (dare I say it?) butter. It's true.  Lou Malnati's crust is better. The filling at Gino's was delicious. Friends of ours made the mistake of ordering a thin crust pie at Gino's. Don't do it. The bland pie, with it's sad, white crust just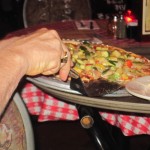 should not happen. Ever.  Go for the deep dish and forget about the calories for one meal.
Where is your favorite Chicago deep dish pizza? Or favorite New York pizza?