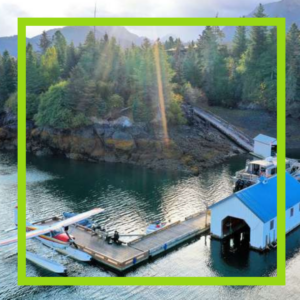 For many of us, imagining a place where there is nobody around to bother us, where we can simply enjoy solitude (and a good cocktail) is as good as it gets. So, here are my top 7 places to go when you want to get away from it all. Places to enjoy nature, revel in beauty, recharge, and relax, all in luxurious surroundings.
(Spoiler alert: We can get you added amenities!)
Stillpoint Lodge, Halibut Cove, Alaska
Sitting on a private peninsula, 117 miles from Anchorage, Stillpoint Lodge includes activities such as kayaking, whale watching, hiking, paddleboarding and more. Enjoy new menus each day included in your stay, along with wine, beer, and cocktails. You'll love this secluded outpost for its eco-friendly vibe and luxurious amenities.
Taj Exotica Resort and Spa, Maldives
A speck on the map in the Indian Ocean, southwest of Sri Lanka lie the Maldives. Unspoiled islands that capture the heart and inst-envy of all those who visit. Taj Exotica is surrounded by crystal blue waters, just 5 miles from the Male airport, and offers 64 villas, many with private pools.
Hermitage Bay, Antigua
Hermitage Bay, and its 30 luxury suites, always feels quiet and remote. This 5-star resort includes all your meals, premium beverages, romance, island luxury, and tranquility. Plus, a gorgeous beach. Enjoy your time, at your own pace. Hermitage Bay is barefoot luxury at its finest.
The Brando, Tahiti
A short twenty-minute flight on a private plane brings you to the airstrip at the Brando. Once there, you may never want to leave. Sitting on a three-mile-wide lagoon, The Brando is nothing short of spectacular. Each room has a private pool, and steps away you'll find a pristine white sand beach. Meals and some activities are included at this paradise resort.
Jade Mountain, St. Lucia
Imagine, if you will, lounging in your private infinity pool, gazing out to the mountains and the ocean, and feeling like you are the only people on earth. Sounds good, right? Biking, watersports, beaches, and of course a fantastic spa, are all available at Jade Mountain, and with only 29 luxurious suites, you'll be treated like the VIP that you are.
Private Yacht and Catamaran Charters
OK, I may have cheated a little with this one, since it is not one "place." We have a wide range of catamarans, barges, and private yachts all over the world that are available for charter. Fully crewed, with a captain and chef, and on some boats, additional staff, you will want for nothing as you glide across the French rivers in a private barge, or cruise through the Virgin Islands to secret coves. From the Mediterranean to Tahiti and everywhere in between, we can set you up with the perfect charter for you. The world is yours to discover, privately.
Necker Island, British Virgin Islands
Imagine seventy four acres of paradise, surrounded by coral reefs, complete with white sand beaches. Now imagine that it is all yours (at least for the time you are there). With just seventeen rooms, Necker Island, Sir Richard Branson's private island is available for just your family/group/party. Your days are yours to do as you please, while the staff caters to your every need. Imagine a decorated canoe floating toward you loaded with mouthwatering sushi, or a six-course gala dinner celebrating, well, anything. The choice is yours.
However you choose to spend your time enjoying the private corners of the world, we are here to help you make the most of it. We handle all of your travel needs, and look forward to helping you plan your next memory-making vacation.