I first visited the Hungry Tarpon about 5 years ago, as it was breakfast time when I passed it. Since then, each time I have driven by at meal time I could not remember where it was. Alas, the Hungry Tarpon is located at MM 77 1/2, bayside, but it is tucked away practically under a bridge. You need to be looking for it. Carefully.
When we arrived for breakfast on Friday, as a party of 3, there were no tables inside, but there was plenty of seating out back. It was about 60 degrees and windy out. That is mighty cold for us thin-blooded Floridians. Nonetheless, the promise of a breakfast burrito loomed in the future and none of us were going to give that up. So we braved the cold.
The breakfast menu is full of breakfast burritos, scrambles and various specialties including peanut butter and jelly stuffed French Toast. My order was a Burrito Fra Diablo, hold the chorizo, please. This large flour tortilla is stuffed with scrambled eggs, scallions, jalepenos, roasted peppers and jack cheese. The menu states that the restaurant is "not responsible for heat".
Before the food arrived, we were able to move to table inside, just below a TV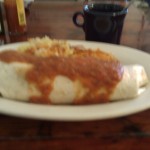 showing Family Feud. (We could not see the TV, just hear the distinctive bell). The food arrived as described and was quite good and satisfying, along with perfectly golden brown hash browns. Clearly we will have no room for lunch today. One note, apparently the texture of their grits is off – they are too chunky says my Cousin, clearly an expert in grits.
Overall: a great breakfast stop if you are in Islamorada or just passing through.  Food takes a little longer than in some other local places, so take an extra few minutes and have a good breakfast. It is the most important meal of the day, you know.