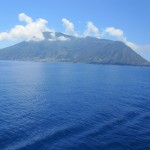 What is there to do on a ship with only 202 passengers, you might ask? On the first full day of the cruise, we formed a trivia team (the "Seabourn Addicts"), ate lunch with the Aussie's on "alcohol-free day" (for them, not us), and still managed to see an active volcano (from the ship) and a little Italian port town (in person).
The day started with me realizing that I must be on vacation if the first time I woke up was 9:30AM, and still was not ready for the day. It is far cry from the 6:30AM normal wake up time in my life. After breakfast, and a dip in the hot tub, we met up with about 25 other people in the lounge for trivia. I have learned (from my trivia buddies), that it is important to have a diverse team – Europeans and Americans of various ages. We did quite well on the first day, but alas, would not last too long.
We had lunch at the Veranda cafe, on the aft deck of  the ship. This is not your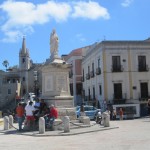 normal casual dining on a ship. Yes, they have an extensive salad bar, from which someone will come, take your plate for you and the find you a table. Mere seconds later, a waiter appears with water and wine ("Would you like some Pinot Grigio with you lunch?" "Why yes, I would, thank you.") Once you have finished your salad course, someone appears to take your lunch order. I thought I had already had lunch, but apparently I was mistaken. They generally have a hot entree special, or you can get burgers, steak, pastas and loads more. There is also a full dessert buffet.
We rolled out of lunch eager for a walk around town. We were anchored off the coast of Lipari, in the Aeolian Islands, north of Sicily, so we tendered ashore. Lipari is a lovely little town, with one gelato shop. I hear the museum is nice, but it was closed on Sunday. We got out, strolled, ate gelato and went back to the ship. All in all, an exhausting day.