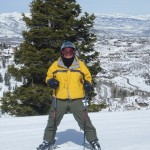 Ski-fest 2011 is over. In my case, maybe it could be called sit-around-in-ski-boots-fest. I did not do an incredible amount of skiing over the course of my five available ski days. I was pretty gung-ho, given what good shape I am in from all this running. The one flaw in this logic: the torn meniscus in my knee. It has been painful, and I have surgery scheduled for March 15, but I figured I could get a few good ski days in first. After all, I already had the plane tickets.I was wrong. Day 1, Lesson with Jen: I covered some good terrain, learned a few things, tried to move forward with my always-ready-for-improvement ski ability and made my way down a series of green and blue runs. I largely ignored my knee, and the throbbing pain. Needless to say, on Day 2, I made my way down exactly one run (Success to Last Chance, if you are familiar with Deer Valley) before crying uncle. I was clearly not skiing any more that day. Day 3 was met with limited success as I made my way down the aforementioned runs with FKGuy and a professional skier (she even had the courtesy to not laugh at me). Mel (the pro) made it look so easy as she cruised down the mountain with perfect form and grace, not to mention a really cute pink jacket. Perhaps next year I will gain some of that confidence. The remainder of the day was spent on the bunny hill with my friend and her three year old. By day 4, my final ski day, I mustered the energy to leave the bunny hill and do some actual runs (McHenry to Kimberly – which I hate – to Navigator to Deer Hollow). You see, I chose Deer Hollow because that is the run that leads directly to the St. Regis and JG Grill. More on that later in the week.
Other than the less than stellar skiing (for me only, the rest of the world was thrilled with the two feet of fresh powder), the trip was hugely successful: An amazing dinner at Mariposa at Deer Valley (full review coming Friday), lunch at JG Grill (full review next week), truly amazing wine dinner at Talisker on Main (more on that next week, too), plus lots of time to spend with friends.
Next year I am planning on taking one of the Mahre brothers three day clinics. By then I should be healthy – the knee should be fixed – and thin. Somehow, I will lose the 15 pounds I have been meaning to lose for several years. Maybe then my ski pants will fit (it is important to look good as you are falling all over the place), and I will finally let go of all of my neuroses and actually become a decent skier. Only time will tell.
Happy skiing to the rest of you.