Thai Spice opened in Fort Lauderdale in 1995, and we have been dining there since moving to Florida in 1999. It is wonderful. We don't go there often, but when I saw a Groupon pop up for $50 worth of food (with a coupon I paid $15) it incentivized me to make a reservation. Recently, we went with friends for dinner, and once again, it did not disappoint.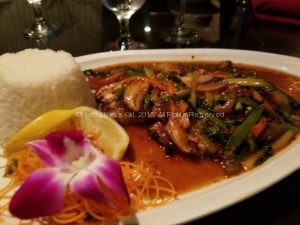 Thai Spice is a large restaurant, split into three rooms, in a nondescript strip mall with inadequate parking. Once you persevere and find a place to stash the car, a delightful dining experience awaits. The dark dining room is accented with lit fish tanks, and many booths providing comfortable seating for larger parties.
I was curious to see if the food or service had changed at all, as I did not expect this to be the type of place to offer Groupons. We were not disappointed, however, and everything was just as good as it had been in the past.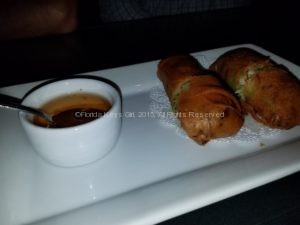 We started with a bottle of Conundrum and enjoyed spring rolls for the table. When you split the fried stuff amongst four people, there is a lot less guilt. At least that is what I tell myself.  The chicken-filled deep fried rolls were delightful. Two people at the table ordered specials that came with hot and sour soup or salad. As FKGuy had the salad, I ended up eating about half of it. They have a fantastically rich, sweet, and savory peanut dressing. That dressing is ridiculously tasty. It is worth ordering a salad just for the dressing.
For our mains, I ordered the beef with garlic sauce, and they did not skimp on the garlic. I had no fear of vampires after indulging in this dish. Perfectly seasoned, I ate much more than I should have, simply because it tasted good. FKGuy ordered the yellowtail in Thai basil sauce, also outstanding. The fish at Thai Spice is always fresh. In the past, I have ordered the Thai Spice grouper on nearly every visit. The fried piece of fish topped with chili sauce is always a favorite. This time, I opted to branch out a bit.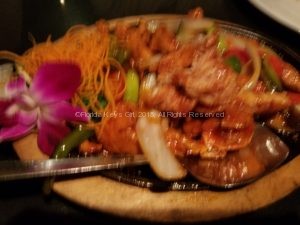 Our friends ordered the beef with basil (very, very good) and Bangkok chicken, a much lighter, more flavorful version of General Tso's. We all left (too) full and happy, as we thoroughly enjoyed everything we ate.
Thai Spice is open for lunch Monday through Friday, and dinner every day of the week. Their address is 1514 East Commercial Boulevard in Fort Lauderdale.