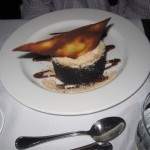 We make our way up to the dessert room at Bern's. To call it a room is a bit of a misnomer. In fact, it is a big space with many individual wooden-enclosed booths, complete with doors. Weird is an understatement. It is, however, unique.
We decided to order a bottle of wine before dessert. To follow up the 1970 Unico and Leoville Las Cases, we needed to order something good. Bern's wine list is overwhelming. I am a complete wine geek, and I found it overwhelming. How a mere mortal is supposed to pick something out of the hundred page bound book is a mystery to me. Between the six of us we narrowed it down to the Rhone, and were looking at some 1970 Hermitage.
We enlisted the help of the sommelier, and finally picked the 1964 H. Debost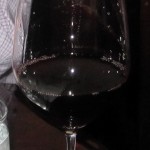 Cote Rotie. The sommelier comes back with the wine, decants it and presents it for tasting after sticking his nose in it and declaring "It smells like sweaty saddle!" Lorna, the birthday girl, looks at him like he's nuts. He tries to ask her if she's ever been on a horse. Instead it comes out "Haven't you ever been on a whore?" No, not so much. Thanks for asking.
With that, we shut the swinging saloon doors to our little room and enjoyed our wine.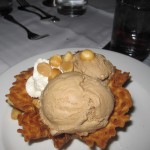 Next up is the dessert. I think they must be more famous for their wines and steaks than dessert. Florida Keys Guy had some sort of chocolate peanut butter concoction, which was quite good. I shared a "macadamia nut sundae" with Lorna, which supposedly had macadamia nut ice cream. Nope. It was a chocolate caramel ice cream that had some other type of unidentifiable nut in it. Definitely NOT a macadamia nut.  The whipped cream, however, was fresh, as was the hot fudge. I am not saying the ice cream was bad, just not as described.
Overall, the decor at Bern's frightened me. Would I go back? Sure, for the wine. The dessert was good, but certainly not worth a special trip.