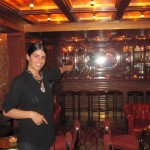 Have you ever gone to a new city and not been able to decide where to eat? Have you ever had that problem at home? A new company, Miami Culinary Tours solves that very problem. They take tourists and locals alike on a two and a half hour culinary adventure through South Beach, and leave you hungry for more.
I met up with owner Grace Della for  a sneak peek at the tour, what she covers and how she does it. We started at the meeting point, the Hotel Astor (where Douglas Rodriguez is the chef) on Washington Avenue with snacks and a glass of wine. We had crab empanadas, a unique twist on the traditional, plantain chips with a sofrito "salsa" and cassabe flat bread. The flat bread was very interesting. It is made with a traditional yuca crust, by first grinding the yuca, squeezing out all of the water and then making it into the flatbread. How do I know all of this? It is just one of the many interesting tidbits I gleaned from Grace during the tour.
From Hotel Astor we head to Ocean Drive. Grace talks about the art deco architecture and terrazzo floors and I show her the spot where as a small child I
 worked the switchboard at my grandfather's hotel (now a Hilton Vacation Club property). A switchboard is a giant board with red and green wires that are used to connect calls from a central location to individual extensions (see photo borrowed from wikipedia). This was well before the days of the internet and cell phone.
The tour continues at The Tides, where more snacks are served, including a drink in the beautiful bar and then food and a prize giveaway in the gorgeous Kelly Wearstler-designer restaurant.  Moving on to The Betsy, guests are invited up to the rooftop for an impressive view of Miami Beach from a  unique perspective, then head downstairs to the BLT Steak private dining room for some comfort food – sliders and fries.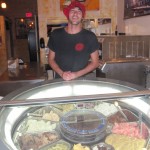 Depending on the crowd, a possible stop may be a cigar store for some facts about Cuban cigar making. Next, it is over to Espanola way to Milani Gelateria. If you have read any of my posts on my Italy trip this summer, you know I am gelato-obsessed.  I spent my 2009 Italy trip searching out the best places, so when we only had one afternoon in Florence this year, I beelined to my favorite, Vestri. Milani, however, is just as good. They make all of the ice cream by hand, every day and store it in a crazy, circular moving freezer. We are told that it keeps all of the gelato at exactly the same temperature, because the regular cases can vary by as much as 3 or 4 degrees, which is unacceptable to owner Francesco.
The tour ends on Espanola way leaving you to further explore South Beach on your own. Overall, the experience is unique and a lot of fun. If you have guests in town, take the tour. If you are visiting, take the tour. Grace is a wonderful tour guide who is passionate about food and runs a great operation – no waiting around for restaurants – this is a well paced event. Also, at $59 per person, it is a bargain.