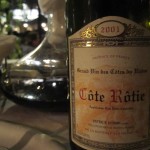 I have been telling you about some summer specials going on here for a while now, but this one takes the cake. Grand Cafe is offering locals (sorry, visitors, we have to have a few perks for suffering through the summer heat.) 50% off during the month of September. Everything. They have a great, if like just about everywhere, overpriced wine list. There are some deals to be had, but you need to know where to look.
The wine list is huge, but well balanced with wines from around the world. 2006 Hundred Acre Cab for $670 a bottle? OK, it is a $300 bottle of wine, but even with a discount I will pass. Tres Picos Garnacha for $68? Last time I bought this wine at retail it was $9.99. Granted, that was a few years ago and the retail on this seems to have gone up to a whopping $13.99, on average. We chose a 2001 Patrick Jasmin Cote Rotie, which listed for $105. After the discount, it is a steal. We saw some other locals enjoying a bottle of Duckhorn Merlot and taking advantage of the summer special.
The service was very good. Varietally correct stemware and a decanter without even asking is always a plus. The food at Grand Cafe is good as well. They have a wide variety and something to please everyone: from fish to pizzas to steaks.
Overall, I like Grand Cafe. It is a good atmosphere, right on Duval Street, which makes for excellent people watching. It is directly across the street from The Red Barn Theater, making dinner and a show a nice evening. Plus, with the September locals bargain, it is hard to go wrong. This deal is only good through September and you need to show a local driver's license to get the deal.