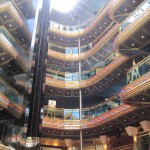 I had the opportunity to tour the Carnival Imagination on Monday. Why? It is helpful for me, as a travel agent, to see as many ships as possible. After all, I book a whole lot of cruises. Holding over 2,000 passengers, this ship has something for everyone. The staterooms come in an assortment of  sizes and configurations. The inside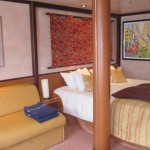 cabin with one bed and one upper bunk setup is perfect for a single person or two friends. Although Carnival claims it is 185 square feet, it is a little hard to believe. There are inside cabins, outside cabins with windows, cabins with balconies and suites. The suites are especially lovely complete with walk-in closet and spacious sitting area.
The rest of the ship also has a great assortment of spaces and activities. There is the requisite casino, but there is also Carnival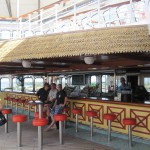 Waterworks, including two racing water slides and a twisty, curvy water slide taking riders high into the air.  There is even a toddler water slide for the little ones that must participate. The poolside bars are tiki huts, adding to the fun atmosphere.
Decks below Waterworks, just for the parents who need to escape – and leave their kids doing loops on the water slides – is Serenity, an adults-only area of the ship with two hot tubs and non-stop drink service. There is even staff on hand to keep out the nosy, or lost, kids.
Our group had a lovely 4 course lunch in the main dining room, which was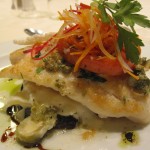 very good. The pasta appetizer came topped with breaded mozzarella and was full of flavor. I chose the grouper entree which was fresh and well-prepared. Then came dessert. Death by Chocolate. I have no idea if that is what it is actually called, but it should be, as I was in a food coma for the rest of the day. Just ask my trainer how not-so-perky I was when I showed up to work out…
Overall the ship has plenty of common spaces, and even a coffee bar where you can get specialty coffees and beautiful desserts. (Note that there is a charge for the coffee bar, and even the desserts there). Have you been on the ship? I'd love to hear your thoughts.