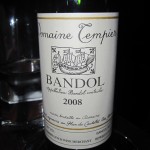 As I was planning the Colorado portion of our trip, I made dinner reservations for three nights. In choosing the restaurants, I chose Brexi largely because we were going to be there on Wednesday, which was our anniversary, and their plat du jour on Wednesdays is sole meuniere. We could not go wrong.
We arrived a little before our 8:30 reservation time and were immediately shown to a table. I had just begin to mull over the wine list – and which half bottle of champagne we should start with – when our server comes along with two rather full glasses of bubbly.  What a delightful way to start the meal.
I already knew what I was going to order since I had been planning it for a month. You see, sole meuniere, when done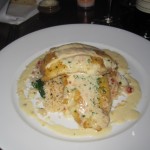 well, is one of the best meals a person could enjoy. Well, it is one of my favorites, anyway. The menu is a variety of fish, meats and seafood, with something for everyone. Although I did notice that many diners at surrounding tables were also ordering the sole.
We started with soup, since it is hard to go wrong with onion soup in a French restaurant and ordered a bottle of Domaine Tempier Bandol. Before the sole arrived I had visions of some of the great sole meuniere dishes I have had in the past: perfectly sauteed fish in a brown butter sauce with lemon. Their version was very good, but was not sole meuniere. It was sole (two huge fillets) in a beurre blanc sauce over rice with spinach and sun dried tomatoes. It was a delicious meal, with tender, flaky, buttery fish, but sadly did not fulfill the craving for sole meuniere.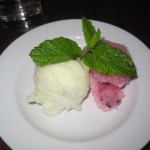 The dessert selection was outstanding, but given how large the portions were I decided to pass. Until I heard the sorbet flavors: basil-lime and passion fruit-champagne. I could not resist that. Plus, sorbet isn't really that filling, is it? I made a good decision.
The room is beautiful, with mismatched light fixtures, black and white floors and loads of dark fabrics. It is very typically French bistro and very chic. As it is in a condo-hotel, the bathrooms are shared with the lobby of the hotel. They are some of the best restaurant bathrooms I have peed in. With the brocade wallpaper, silvery floors and red countertops, it really was beautiful.
Overall, the meal was outstanding. The food was very good, service was outstanding and Brexi will undoubtedly be on the list for my next trip to Aspen.