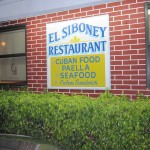 I often shy away from Cuban food, even in Miami where it is plentiful. Why? I spent a lot of time working with loads of people who insisted on going out for Cuban food for lunch. We went to places where everything was loaded with some sort of pig product, and I ate plantains. I passed on as many of these opportunities as I could. Alas, I recently went to El Siboney and my mind has been changed forever. El Siboney looks like a diner, complete with a pay-at-the-counter system as well as cheap furniture and bad lighting. The food, however, makes it all forgivable. Well, that and it is a great bargain. They have an extensive menu of meats, poultry and fish. I started with the avocado salad. It was a daily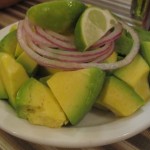 special ($3.50) and consisted of a large plate of avocado topped with a few slices of onion. Vinegar and oil were on the side.While it was fresh and delicious, not even I could eat that much avocado.
Then we had the grouper fillet. It was  a large piece of very fresh fish, grilled with some spices, and again, topped with a few slices of onion. The fish was served with yellow rice, black beans and some sweet plantains. This was enough for dinner and lunch the next day, and a bargain at $13.95.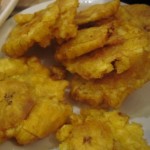 We also had a side order of tostones. These are plantains that have been fried, smashed into discs and fried again. The result of all the frying and smashing is a delightful bite of flavor.
El Siboney has an extensive menu of Cuban staples like Ropa Vieja and are also known for their paella. It is located on the corner of Catherine and Margaret streets and is a bit off the tourist beaten path – although plenty of tourists manage to find it. It is a great choice for a quick, inexpensive and satisfying meal.