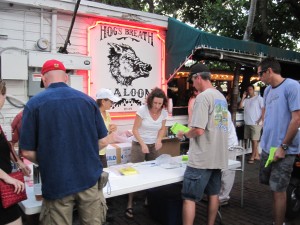 By now you know that I have been training for the Disney half marathon in January. You have heard about my 5AM trainings, trying to run faster, sometimes unsuccessfully, and all of the other drama that goes along with the preparations for the impending 13.1 miles.
This past weekend, I ran in my very first race – the Hog's Breath 17th Annual Hog Trot. I came in 260th place (out of the 303 runners that finished), and feel pretty darn good about it. Thus far, my fastest time has been 12:00/mile for 2.86 miles. This race, however, I managed to run the 3.1 miles in 36:01 minutes. I will do the math for you: that is an 11:37/mile pace. Woo hoo.
The path took us from the Hog's Breath up Whitehead Street, through Truman Annex and into Fort Zachary Taylor State Park. I didn't realize until we were in the park that we were running on a trail for part of this. Narrow and slightly uphill, it was fun trying to maneuver around people slower than me (there were a few) and others that were running two and three across. When we came out of the park, we made our way back down Whitehead and back to the Hog's Breath.
I finished my first mile in an impressive (for me) 11:10. Then came the uphill and trail… and fortunately no clock at mile 2 for me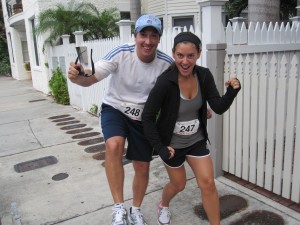 to psych myself out. The last bit of the race, coming around the corner to the finish line was an all-out sprint for me. I saw the clock and had to beat my anticipated time of 37:12. I thought I had beat my goal by about 40 seconds. Imagine my glee when I found out it was 1 minute and 11 seconds faster than I had thought possible! 
I made FKGuy do the race with me (I signed him up, he had no choice), and he finished in an impressive 27:10 (that would be an 8:45 pace) only seconds behind FKCousin, who finished in 26:54 (8:40 pace).
After the race, a slew of raffle prizes were given out. I managed to snag a $25 gift certificate to Blue Heaven. Now, if only I could get in without a two hour wait.
In two weeks is the Team in Training Run, Run Rudolph 5K along Smather's Beach. By the time Disney rolls around, I will be fully ready for the race. I may not, however, be ready for the 24 degree temperature. Let's hope for a nice day in the 40s.