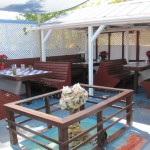 Stepping into the Cracked Conch Cafe in Marathon (MM 49.5) is like taking one giant leap backwards to 1975, complete with vinyl tablecloths, diner-style menu and dudes at the outside bar smoking. I suppose if it actually were 1975, they would have been smoking inside.
The menu is large and covers everything from breakfast to their namesake dish: conch. Conch Francaise, conch chowder, conch marinara, fried conch, and the list goes on (I am feeling a bit like Forrest Gump, here).
We opted for black bean soup (not nearly as good as The Flaming Buoy),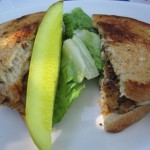 potato skins (nothing says spent-a-whole-day-exercising-yesterday like fried food), an omelet with veggies and a fresh fish melt.
While the soup was just okay, and the potato skins were delicious, yet remarkably bad for us, the omelet was filled with vegetables and cheese (which I added on; it did not come that way) and came with a  side order of home fries. You really can never have enough carbs.
The fresh fish melt, however, was the star of the lunch show here. The sandwich came with a choice of mahi-mahi or yellowtail (we opted for the latter), sauteed mushrooms and melted white American cheese on rye bread. The fish was perfectly cooked and the mushrooms and cheese added both flavor and a wonderful creamy texture to every bite.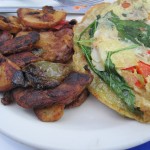 To add to the whole meal, service was efficient and very pleasant. Everything came as ordered, and was served with a smile. As an added bonus, our entire bill, complete with over 20% tip, came to just $41.
I would go back for the fresh fish melt any day. If you are in Marathon and want a good, no-nonsense meal, try the Cracked Conch Cafe. While I cannot comment on the conch, the fresh fish melt is outstanding.