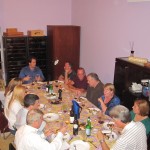 I don't need much of an excuse to throw a party, so when I heard that Paul and Stefania Romero, the folks behind Stefania winery in Santa Cruz, were coming to town that was about all the reasoning I needed. The wine geeks came in droves – 21 people in all at my house on a Thursday night. They brought good cheer, loads of wine and even a marriage proposal. Yep, our friend Steve proposed to his girlfriend of nine years in front of a crowd. Note: If your girlfriend asks if you are breaking up with her when, in fact, you are proposing marriage, you need to be a little clearer with your message.Indeed, she did think that he may have been breaking up with her, although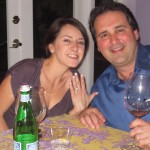 I'm not sure why he would do that in a room full of people drinking champagne. Ultimately, she said yes and gleefully sported his grandmother's beautiful diamond ring. We breathed a collective sigh of relief and moved on to the important things: food, more wine and conversations that didn't hinge on a "yes".
We started with some hors d'oerves: guacamole and chips; wonton cups with cucumber salad and seared tuna; and the ever-popular provolone and caramelized onion empanadas. Then came the proposal, then more food.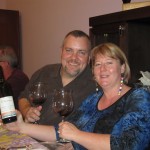 Paul and Stefania arrived with a case of wine. Twelve bottles of goodness. Happily for me, we did not get to them all, so I have leftovers. Don't think that we were slacking, however, as we made it through a respectable 24 bottles over the course of the evening. (Feel free to scroll down past the bullet points if you are not interested in the wine list)
Perrier Jouet NV (for the proposal, duh)
2006 B. Core Alta Mesa White Blend
1999 JJ Prum Wehlener Sonnenuhr Riesling Auslese
2005 Kerpen Wehlener Sonnenuhr Riesling Auslese
2009 Stefania Chardonnay Chaine D'Or
1998 Veuve Clicquot La Grande Dame
2006 Ketcham Estate Pinot Noir Ketcham Vineyard
2001 Podere Salicutti Brunello Di Montalcino Piaggione
1997 Castello Banfi Brunello di Montalcino
2006 Stefania Haut Tubee (pronounced Hot Tub, named after the grapes grown in their backyard near the hot tub; I love these people)
2007 Stefania Haut Tubee
2001 Domaine Charvin Chateauneuf-du-Pape
2000 Chateau Prieure-Lichine
2005 Radio Coteau Syrah Cherry Camp
2004 Bodegas y Vinedos maurodos Toro San Roman
2008 Stefania Cabernet Sauvignon Santa Cruz Mountains
2008 Stefania Cabernet Sauvignon Crimson Clover
2003 Kilikanoon Shiraz Oracle
2008 Owen Roe Syrah red Willow Vineyard Chapel Block
1989 Beaucastel Chateauneuf-du-Pape (bad bottle)
2009 Chateau Pre La Lande bordeaux
1997 Pio Cesare Barolo
2009 Chemin des Olivettes Coteaux du Languedoc
All of the wines paired with gazpacho shots, watermelon salad with citrus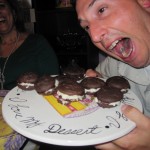 dressing, truffled mac n' cheese (yum-o!), roasted strawberry grouper with balsamic glaze, chocolate cherry cupcakes with chocolate ganache and oh-my-goodness coconut rum whoopie pies (which, in the spirit of  "you can never have too much",  also had some ganache).
Before dessert was served I made people change tables. Five people from each table had to get up and switch, thus forcing them to talk to other people. This is a little trick I learned from my friend Kathleen over Christmas, and I have to admit it is rather genius.
The food was good, the company was amazing and everyone had a good time. I certainly hope that they come back to Florida soon – I am working on them to pour at the Key West Food and Wine Festival next year.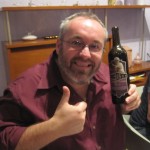 Sometime after the dinner, I learned that Paul and Stefania allocate their wines to their mailing list on a point system. (Note to non-wine geeks: many wineries allocate their wines particularly if they are sought after. They let you know how many bottles are available to you and in theory, you then buy them all. It is absurd to think that you are allowed to buy a certain number, but for wineries with small productions this is how they do it.) We are currently number 1 on the list, so I think they must assign points for humorous blog entries and throwing good dinner parties. Nonetheless, it left me chanting "we're number one!" for several days.