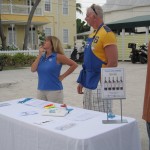 Duval Street stretches from the Gulf of Mexico to the Atlantic Ocean. It is about a mile long. Last Saturday evening, as part of the Key West Food and Wine Festival, there was a wine tasting that traversed the entire street. Galleries, restaurants, shops and bars had stations set up so that those attending the event could come in and sample wines while being exposed to what they had to offer (fortunately, the Red Garter Saloon was not on the wine map). Overall, it was a great event.
First, the could-use-improvement points:
Enough with the Barefoot Cellars. I know they are a sponsor, but I don't want to drink their wine, much less drink it at four or five locations.
I have yet to see the city enforce the open container laws. Can we please have some decent plastic stems (a la those at the MARC Master Chef event). Please?
If Grand Cafe is a sponsor, I would think they would be welcoming people for the entire time of the event, not telling people at 7:40PM "We're done pouring for this event" when the event is until 8:00PM. You had a bunch of people there in the afternoon for a tasting that would not have otherwise been exposed to your restaurant. Be a sport.
On the other hand, there were far more highlights than low-lights: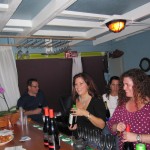 Strolling Duval tasting wines is just fun, and if you can't have fun doing that, I really feel sorry for you.
Blackfin Bistro had some of the best wines of the evening and also provided snacks – salmon tartare on toast. They even put plates of the snacks where people were sitting, away from the bar. Kudos.
Wyland Galleries had people upstairs in their entertaining space, which was lovely. Plus they had Piper Heidseck and food from Tavern n' Town (I believe they were French Dip sandwiches)
Small Chef at Large was at The Gilded Peach with delicious tuna. Bravo.
I learned that the vintage poster shop on Duval is one of the cooler shops around. Great stuff!
I love that 801 Bourbon had jello shots (although I passed on having any). You have to go with what you are good at. I also learned that locals get into the drag show for free!
Towels of Key West also had some great snacks – gazpacho and seared tuna.
I could go on, but you would get bored and hungry and that just wouldn't be right. This is another one of those events where you see the same people over and over throughout the evening. We did enjoy hanging out with Rich and Mandy from Buffalo, although I really do not get why she moved to Buffalo from Florida. Must be love.