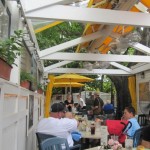 I have indulged in to-go goodies from Croissants De France in the past – a to die for Nutella beignet or a good cappuccino – but have never eaten there until last week. Although it was very hot outside, the garden was shaded, fanned and comfortable. The menu is filled with egg dishes, sandwiches, galettes and crepes. The Duval Street location makes it popular with tourists as well as locals.
We had a mushroom galette – a buckwheat crepe filled with a mixture of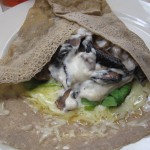 mushrooms, spinach, Gruyere (everything is better with cheese) and bechamel.  The shell was tender and the filling was really yummy, if a little on the heavy side. Of course, that is what I get for ordering a crepe filled with bechamel… delicious, gooey and yes, a little overindulgent sauce.
We also had the Americanos, which is described on the menu as an open faced butter croissant topped with 3 scrambled eggs, lightly dusted with paprika and Scallions, served with a side of scrumptious whole grain mustard sauce. We opted to have this with smoked salmon, which was a very good choice. The croissant was light and flaky – as one would expect from a place with Croissants in the their name.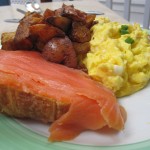 The eggs were cooked perfectly soft but cooked through. They are not kidding when they describe the mustard sauce as scrumptious. It was good on the eggs, salmon and crisp potatoes.
On the menu are also many sandwiches, quiches, Benedicts and sweet crepes filled with everything from fruits to key lime cream. We are, after all, in Key West.
The service was both friendly and attentive and added to the meal. Of course, the question whenever I try a new place is always: would I go back? Absolutely. I am already looking forward to it.