I hesitate to call this a restaurant review because I am not sure if we can classify Sandy's that way.  Yes, they serve food, and they even cook it to order. But the only seating (at what I affectionately refer to as the "chef's table") is a few stools by the window overlooking the grill. Plus, it is inside a laundromat. That being said, they make a delicious egg sandwich.
The menu is basically sandwiches in various forms, including tacos and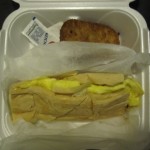 quesadillas. They also make delicious eggs in both omelet and sandwich formats. It is pretty hard to make a bad egg sandwich, but Sandy's is quite good. Scrambled eggs fill a huge piece of Cuban bread and are topped with melted American cheese. It is like the United Nations of egg sandwiches, all it needs is some French fries (which you could get). Instead the sandwich comes with a McDonald's-esque hash brown patty.
Even though it has clearly been frozen in a past life, the potato patty is very tasty either late at night or after an exceptionally long morning run. Who am I kidding? They are plenty good midday as well. My half-marathon training runs often ended at Sandy's for some sort of sustenance.
The cafe con leche is superb. My  neighbor swears by the chicken fajita sandwich. Yep, that's right, it is a chicken fajita but instead of it being served in a tortilla, the chicken, peppers and onions are piled high atop a gigantic piece of Cuban bread.
The Sandy's crew is a supporter of local activities and events. I see them (all decked out in Sandy's Cafe t-shirts) at every local 5K.
The bottom line on Sandy's is this: the sandwiches are huge, the food very good, it is inexpensive, they are open 24 hours and they deliver. What more could a person want? As an added bonus, they are located equidistant between my current home and my soon-to-move-into home, so I don't give up my good proximity to egg and cheese sandwich goodness.