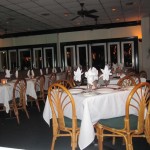 There are places I walk by all the time and never go to. Why? I have no idea. There is something that just doesn't inspire me. Square One is one of those places. There is no good reason for it, I just had never been there before last weekend. But, it is on the Woman's Club Restaurant Card, so with the promise of two-for-one entrees, we decided to give it a try.
Square One is one of those places that just feels old. There is nothing trendy, shiny or new about it. As there are plenty of good places all over the world that have been around a long time (we went to a wonderful one in Bologna), I did not think this was necessarily a bad sign. Plus, in a lot of established places the service is actually good. I was optimistic.
We were greeted at the door by a friendly host ("Oh, yes, you just called,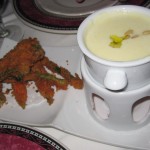 right?") and quickly seated. The decor is very green – and I don't mean eco-friendly – green carpet, banquettes, loads of dark green on the fabrics, and felt stale. But our waiter came over and was extremely friendly, so we were in good shape. Plus, the piano player was going through a pleasant repertoire.
The menu is very old fashioned as well, in both the food and font. It is heavy on the appetizers and meats, although they do have a few salads, too. We started with the goat cheese fondue appetizer. The actual cheesy goodness was quite tasty. There were some pine nuts mixed in, yet I did not see even a hint of the promised tapenade. As for the accompaniments? I asked for more bread, as the dish was served with fried vegetables. Fried asparagus (which were surprisingly tasty), fried carrots and fried broccoli (not so much). Although FKGuy liked the carrots, I really saw no point. I would much rather they serve some actual crudite, or even some lightly blanched veg. It was unnecessary and unsuccessful "creativity".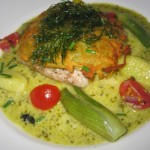 The mutton snapper special of the evening was wrapped in a potato crust and served with a creamy basil sauce. It was a big hit.
Overall, the food was good, except the hideous vegetables served with the fondue, and the service was great. I was convinced that I would possibly come back. Then I went to use the rest room.  I walked in to the ladies room to find two stalls, each with a shower curtain in front of it, instead of a door. I was a bit taken aback, but then truly horrified as I realized that the shower curtain was about six inches in front of the toilet. There was no way to use the toilet without this disgusting fabric thing hanging all over you. It was horrible. They should just get rid of the second stall and make one big bathroom with an actual door that locks. Then, I may consider a return visit. I cannot bring myself to go back again in the meantime.