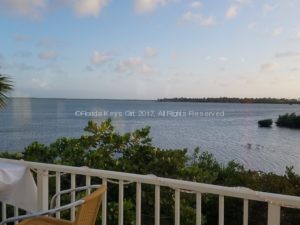 In the building that formerly housed Kaya Island Eats, now stands Fish waterfront restaurant. Our friends wanted to go recently, and since they offered to drive, I thought it was a fine idea. (You will never catch me wanting to drive to dinner when the other option is to go someplace walkable.)
We meandered up the Keys in a vintage Rolls Royce, enjoying the sunset. The ambiance is casual, airy, and typically Keys-y, and the menu is loaded with fresh fish. I was optimistic we would have a great meal.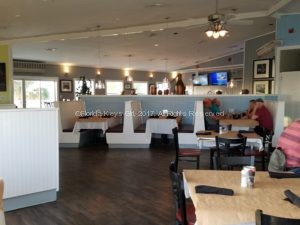 Pro tip: Let the person who ordered the wine, taste the wine.
This is a big pet peeve of mine. Often times I will order wine, only to have the server bring it to FKGuy for a taste. Sort of when I am out with FKGuy and a bunch of male friends for dinner. Invariably, I am the one at the table that orders a steak. If we are somewhere unfamiliar, the majority of the time whoever is bringing out the food tries to serve my steak to one of the men. It's like they have never seen a woman eat meat before. It is possible that my husband ordered a salad and I ordered a steak, and somehow, the earth still rotates on its axis.
But I digress. Here, the server brought the wine and poured a taste for our friend. I think he was so clueless that he missed my overt eye-rolling and throat clearing. Shortly after we ordered, he came back to let us know that the kitchen had run out of spinach, and they only had enough for two of the three side orders. It seemed an odd thing to run out of. Fresh fish? OK, I get that. But spinach?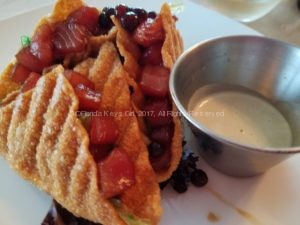 Fortunately, things were uphill from there. FKGuy and I started with the tuna tartare tacos. Three crispy wonton shells. shaped like tacos are then filled with fresh tuna, seaweed salad, and soy "pearls". The soy sauce in encapsulated in tiny, round balls, and though gimmicky, is kind of fun. It was a delicious take on a popular dish.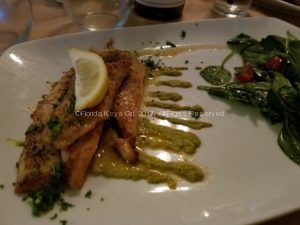 Entrees at Fish include fresh fish, as one might expect, in a variety of formats, as well as a steak, a token chicken dish, a couple of pork dishes, and seafood pasta dishes. I chose the lemon pepper yellowtail, with spicy green sauce and a side of sautéed spinach. FKGuy opted for blackened grouper, with the same spicy sauce, and sweet potato fries. Our friends had variations of the same: panko crusted yellowtail with blood orange sauce, and more grouper with spicy green sauce.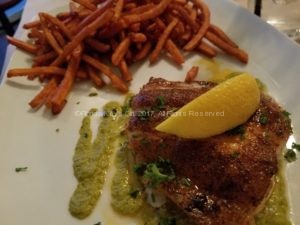 The fish was expertly prepared, and delicious. It seems that the kitchen really only had enough spinach for one side dish, as my friend and I each got about ten leaves. But those few leaves were outstanding. Overall, the food was superb. While the service was only mediocre, I would go back again if it were convenient, as the food was just that good.
Fish is open every day for happy hour and dinner and is located at mile marker 14.5 on US1, just north of Key West.