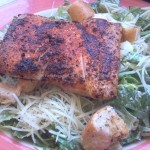 Despite the prime people watching location on Duval Street, I had never been to Caroline's before last week.I'm not really sure how that happened, but it did. Last week, I had this great plan: to stroll down Duval, grab some lunch and then head over to the Tervis store and buy some gifts. Alas, it was the hottest day of the year so far, so, in retrospect, perhaps it was not the best idea I have ever had. 
With a plan, FKGuy, Babka and I headed out for our walk/lunch/gift buying outing. The Pride street fair – all two blocks of it – was in full swing, and after quite a lengthy walk we ended up at Caroline's. As we were waiting to be seated, I saw a couple of salads and sandwiches being delivered and they all looked good.
Perhaps I mentioned that it was hotter than hell? Well, despite my burning desire for a sandwich and fries, I ordered a salad. The menu offers a Caesar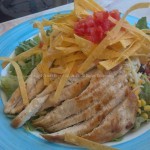 salad with optional chicken or shrimp toppings. I opted for the blackened mahi on top. They were more than happy to accommodate fishy needs. FKGuy also had a salad, with beans, cheese and more.
Both salads were very good, and fresh. Mine was so good I did not want to share. The fish was nicely cooked and even the croutons seemed homemade. (I have no idea if they actually are, but they were totally worthwhile croutons, not the crappy, stale cubes often found at restaurants.) The other thing that stood out about this meal was the service. It was good. Quick on the iced tea refills, and generally pleasant. I don't need much more than that.
Caroline's is located at 310 Duval Street and has plenty of outdoor seating. They are open every day for lunch and dinner, and it is a great place to grab a sandwich or salad.