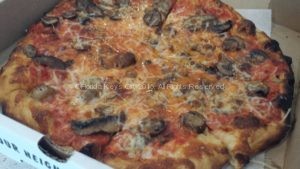 A few months ago, as I was lamenting the downhill slide of a local pizza shop, a new game rolled into town. Clemente's Trolley Pizzeria is a beautifully restored trolley car, outfitted with a 900-degree wood-burning pizza oven. Last fall, they arrived and permanently set up shop at 629 Angela Street in downtown Key West, on the former home of Cayo Mexican Cantina. 

In honor of FKGuy's birthday (today), he decided on pizza for lunch the other day. Birthday week is no time to worry about those pesky carbs.
There are a few seats outside, but we opted for delivery, as (a) we were feeling lazy and (b) it is pretty warm outside these days. I can happily say that the promised delivery window was 30 -40 minutes, and our food arrived, piping hot, in just about thirty minutes. It was a good start.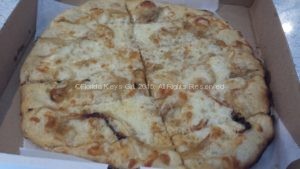 We tried the mushroom pizza, as well as the garlic cheese bread, and devoured most of it within moments of it arriving on our doorstep. The pizza was crisp, with a chewy and not-too-burnt crust. The sauce is tangy, mozzarella good quality, and the Portobello mushrooms were sautéed and not the least bit watery. Plus, there were loads of them, making me a happy camper. This is seriously good pizza.
We also enjoyed the garlic cheese bread, which is simply a pizza crust, covered with garlic, onions, and cheese. It is amazing. Really, how can you go wrong with this combination of deliciousness? You can't. We've already established that the crust is very good, so topping it with savories, and cheese, is a very, very good idea.
The menu is small, so if you're avoiding pizza, this is not the place for you. On the other hand, if you are looking for a yummy, flavorful, thin crust pizza, delivered right to your door, this is a great choice. Pizzas range from $13.50 (for plain cheese) to $19.50 (for a supreme) for a 12-inch pizza. Appetizers range from $3.95 for garlic knots to $14 for a Caesar salad pizza. Yes, that is a Caesar salad atop a crispy pizza crust. I'll be trying that one next time.
Clemente's is located at 629 Duval Street, at the corner of Angela and is open from 11 AM – 11 PM.