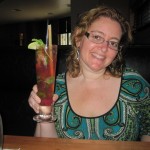 I dread having to go the Village at Gulfstream. It is a monstrosity of casino, restaurants, shops and parking that is nearly impossible to navigate. On the other hand, if you are anywhere close to Hollywood, Fort Lauderdale or Aventura, it makes for a handy place to meet people. It was in this convenient-yet-uninspiring mode that I met a friend for dinner there last week. We chose Cantina Laredo, largely because (a) I had never been there and (b) even bad Mexican food can be helped along by a margarita.  I was pleasantly surprised.
The decor is a little reminiscent of a nicer version of a Cheesecake Factory.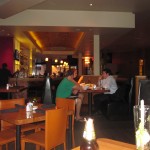 How can it not be? The place is huge, which to me instantly invokes Cheesecake Factory. Fortunately, I got over that as I am not much of a fan of CF (except those damn salmon firecracker rolls, which rock). I digress. This place is nothing like CF.
I know the at-your-table guacamole thing has become kind of ubiquitous, however, I really like guac. So when it is freshly prepared and I can say things like "more jalapenos, please… no really, I'd like even more…" I get kind of excited. Plus, it is obviously fresh.
The menu is an array of standard favorites like tacos, enchiladas and fajitas. It is mixed with unexpected items like large, fresh salads, steaks, ceviche and fish specials. As I was perusing the menu, I wondered what the Tacos Cascabel could be (the description of "tacos with Cascabel sauce" was not terribly helpful.) So, I asked our waiter.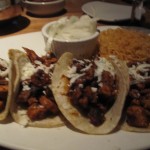 "Oh, it is really spicy," he replied. "OK, but what is it? Is it a tomato based sauce? Some other kind of sauce? " Apparently it is a jalapeno sauce that is made with tomatoes and simmered all day. It is unbelievably spicy and amazingly tasty. If you can't take the heat, stay away from the Cascabel. My friend had the Camarones Escondidos, a shrimp stuffed chicken concoction with a chipotle wine sauce that was enjoyed immensely.
The bar menu has the requisite margaritas, which are both huge and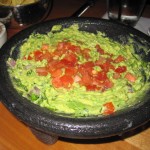 awesome. They are not awesome simply because they are big, either. My friend had the strawberry mojito, which was good, but way to sweet for me to enjoy with food.
Overall, it was a good dining experience. Would I go back? Sure? The food and service were both good. However, as Cheen Huyae is not too far away, I am always more inclined to support a locally owned business than a chain.