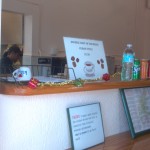 On the corner of Eaton Street and Grinnell, in the former home of Paradise Cafe, sits the new Paseo. You won't find a fancy sign or any other indication that what exists inside is truly sensational, but it is. The owner of Paseo is so secretive, he comes in to make the sauces when they are closed on Mondays and Tuesdays, and doesn't share the secrets with anyone. The result? Caribbean food that is outrageously good.
I went to Paseo for lunch recently, sitting at one of the few outside tables (there are no tables inside, just a counter). The food,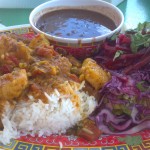 however, is the big draw here. The menu consists of sandwiches, "The Goods" and entrees. I had the Fish in Red Sauce entree. At $13 it is a bargain. It is a giant plate of food, complete with black beans and rice, but the fish is the star of the show (as it should be). The red sauce can be prepared as spicy as you like it, on a scale of 1 -5, so naturally I went with a 5. It was make-you-sweat hot and delicious. The sauce is flavorful and full of spices and makes the fish truly special.
We also had the Caribbean Bowl, with rice, black beans and a chicken thigh smothered in jalapeno, cheddar cheese, salsa and sour cream, served with a ton of tortilla chips. This dish was also full of flavor and spices.
Perusing the menu, there are many things I'd like to try: the tofu delight – sauteed tofu with garlic tapenade made as spicy as you want, the fish sandwich, the rice bean salad, and for sure the onion obsession – caramelized onions sauteed in garlic tapenade with cilantro and jalapenos. I don't think you could go wrong with that one. On the other hand, I am not sure how I can go back and not get the fish in red sauce. It was that good.
Needless to say, it will be a tough choice.