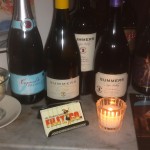 It is no secret that The Flaming Buoy is one of my favorite restaurants. Just the other day, as we were sitting outside eating, a friend passed by, saw us and said, "Hmmm…. every time I eat here, I always see you." That is because we eat there all the time. It's great. So, when I was asked to get involved in coordinating the wine dinner for the Key West Food and Wine Festival, I gladly obliged. 
We were latecomers to the dinner, as it was the same night as Duval Uncorked. We spent several hours trotting around the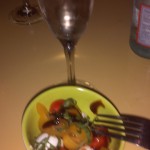 restaurants and shops of Duval Street, wine in hand and then made it over to The Flaming Buoy for a six course meal, each course paired with a different wine. In short, it was amazing.  Fortunately the weather was good, so there were festival-goers inside and outside, lingering over a terrific meal.
The dinner started with a glass of Caposaldo Prosecco, paired with a Caprese salad. The balsamic reduction has a hint of blood orange in it, and is the perfect level of sweet and tangy. Next up was the lobster mac n' cheese, paired with the 2008 Summers La Nude Chardonnay.  The mac n' cheese is always amazing and it was a perfect pairing with the unoaked California Chardonnay.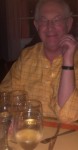 The following course was the hogfish with banana salsa, paired with the 2008 Summers Charbono. I know, you're wondering abut the banana salsa, and even more curious is the red wine pairing here. Let me tell you, it was terrific. The slightly oakey wine held up nicely next to the banana salsa. Plus, it is not a particularly heavy wine, so it managed to not overpower the delicate fish, either. Win-win.
The bacon-wrapped scallop over mashed sweet potatoes seemed to be quite a hit, too. Alas, since I don't eat shellfish, I did not enjoy the scallop. Don't worry, I didn't starve. I managed just fine with the substituted black bean soup (which I have tried, unsuccessfully, to recreate at home). This course was paired with the 2009 Steele Zinfandel, Catfish Vineyard, which happened to go nicely with the soup, too.
The final savory course was a New York Strip steak, served medium rare, over crostini with a blue cheese butter.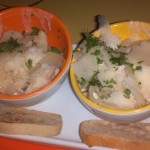 This was paired with the 2009 Summers Calistoga Cabernet Sauvignon. As I looked around the restaurant, there were a lot of people with earlier reservations that had lingered for quite a while. Presumably, it was the food coma that set in early, as there were nothing but smiling faces, even if their bodies could not propel them out of the restaurant.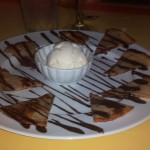 I was delighted that the grand finale happens to be my favorite dessert – the spicy chocolate quesadilla with vanilla ice cream. This is two flour tortillas layered with white and dark chocolate and smothered in a spicy chocolate sauce. It was paired with the Steele Black Bubbles sparkling Syrah. I know, "sparkling syrah" does not evoke thoughts of yumminess, but this was quite a pleasant surprise, and a perfect pairing.
Overall, the meal was outstanding, and at $65/person, including tax and gratuity (not to mention all of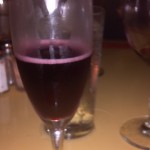 the food and heavy pours of wine) it was quite a bargain.
The Flaming Buoy is located at 1100 Packer Street, Key West, at the corner of Virginia.