The nice folks at Dunkin' Donuts sent me a gift card to go check out their new "DD Smart" menu with healthier choices. Don't worry, they sent a gift card for you, too. Read on to find out how to win it!
I went into a Dunkin' Donuts shop in Fort Lauderdale, eager to learn more about the DD Smart menu. Sadly, there was no signage in place and when I asked for clarification, the cashier had no idea what  I was talking about. So she asked someone else, who also had no clue. I then asked for nutritional information for the sandwiches, which they could not provide. I was flummoxed.
I ended up ordering what was promised to be "healthy" – an egg white and veggie sandwich with cheese on a thin English muffin, and a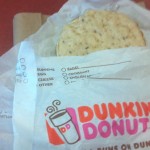 coffee. I love Dunkin' Donuts coffee. Love it. It is never burnt, and always delicious. The sandwich was fine, although I still have yet to find nutritional information on their website. It is a bit difficult to navigate. There is plenty of nutritional information on other sandwiches, bagels and donuts, yet I remain unclear as to how many calories I consumed. It is a good thing I really don't care!
I seem to think I would have been better off with a nice chocolate glazed or cream filled, chocolate topped donut.
What do you think? Want to try it for yourself? I'd love to hear your opinion. I will send 1 lucky reader a $5 gift card to Dunkin' Donuts. You can enter to win in one of three ways. 1. Leave a comment anywhere on the blog between February 13 – 17, 2012. 2. Comment on the Facebook page (same dates apply). 3. Tag @FloridaKeysGirl in a post on Twitter with a comment on any blog post (same dates). Winner will be announced by February 24, 2012 and will be notified by email. If the email is invalid, or unanswered after 2 days, another winner will be chosen. US addresses only, please.