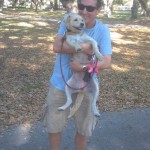 Babka doesn't need an excuse to hang out and play with other dogs. If we are outside and she sees a friend, or a friend she hasn't yet met, she is interested in playing. All the time. So when we had the opportunity to join the Pack Walk in the Park at T.Y. Park in Hollywood, FL last week, we were in.
A two mile, leisurely walk for us and some  extra socializing for Babka, the social butterfly. She loved it. The majority of the fifteen (give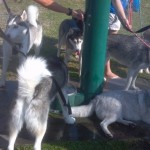 or take) dogs were Siberian Huskies, and one Dingo, and Babka. Luckily for her, Babka has no idea that all of these dogs outweighed her by at least 40 pounds.
The Pack Walk is organized by Harlo's Healthy Pets (they deliver food to your door) and Kat Walking Dogs (keeping dogs walked, fit and happy), a soon-to-be husband and wife team of dog lovers. They make sure that the dogs are well hydrated, get treats and socialize with friends. For the record "socialize with friends" really means "exhaust themselves so the humans can have a little down time when they get home and the dogs nap." 
The day we were out was a perfectly sunny South Florida day, although a bit warm for February.  The dogs had fun, the humans had fun and I learned a very important lesson: it is far less expensive to feed Babka than a 60 – 70 pound dog. OK, I knew this already, but when you hear about how much people are spending on their dog's food, it really drives the point home.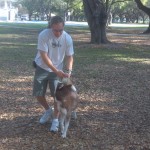 T.Y. Park is off of Sheridan Street and Park Road in Hollywood and is dog friendly, assuming your dog is on a leash. Enjoy.