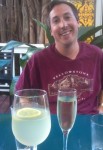 We had tried 2¢ moments after they opened around New Years, when they were cash only and still getting a handle on things. I keep meaning to go back for dinner now that they accept credit cards (I don't usually carry cash) but just haven't gotten there yet. Instead we went for brunch yesterday.  Oh my.
First of all, the outdoor garden is just lovely. It is so relaxed, you completely forget that you are just steps off Duval. The menu is small,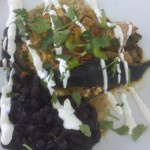 but well thought out. Although the Benedict looked good, with kale, white beans and tomatoes, we opted for one sweet dish and one savory. I ordered the poblano relleno, which is a beautifully grilled poblano pepper stuffed with oil poached tuna, avocado, queso blanco and served with black beans and a salsa verde, of sorts. The avocado lent a creaminess to the dish without making it heavy. The whole dish really is well balanced, not to mention delicious.
We also had the Pain Perdu. FKGuy normally doesn't go for the sweet breakfast choices – he'll take eggs and hot sauce over a chocolate chip waffle any day of the week – but I really thought this sounded like something we needed to try, and he obliged. This is a dish filled with brioche, apricots, pistachios and a pistachio cream. It is served with apricot preserves and real maple syrup. It is way, way better than it sounds (and I know it sounds pretty tasty). I would have licked the dish if there were even a small bit of this remaining. Yum. I am already looking forward to eating this again. Soon.
Note to the owners of 2¢: Please do not ever, under any circumstances, remove the pain perdu from the menu. Ever.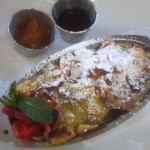 But what about the drinks? They have a full wine list, which is pretty good, but I am a sucker for a mimosa, or two with brunch. I could have had a mimosa, or bellini, but I opted for the spiked lemonade. Sauvignon Blanc mixed with lemonade and topped with a  little soda water.  I have found my new by-the-pool cocktail. FKGuy couldn't decide which fancy drink to get, so he opted for the safe, yet always good, glass of prosecco.
Babka loved 2¢, too, and I am pretty sure it had a lot to do with promptly being brought a water bowl, being adored by other diners, and the little tuna scrap we saved her. She can't wait to go back.
2¢ is tucked away down Appelrouth Lane, and is certainly worth checking out.