The difference between "dinner" and a "wine dinner" is often the company. When the wine geeks are around, even in small numbers, a plain old dinner suddenly becomes an event. We often have wine with dinner, but we always have lots of wine with the wine geeks. On Wednesday we had just such an occasion.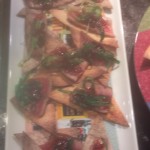 Some wine geeks we had never met in person were visiting from New York, so naturally I took the opportunity to have everyone over to our house for dinner. We started with smoked salmon deviled eggs (like all the best parts of brunch in one, works-great-with-champagne hors d'oerve) and tuna nachos (seared tuna atop crispy wontons topped with chili sauce and seaweed salad). We started with Jacuqes Selosse Initial champagne (yum, yum, yum… I will need to have more of this in my life) and followed that up with a 1990 Schloss Schönborn Hattenheimer Nußbrunnen Riesling Auslese (go ahead – say thatten times fast!)
Moving to the table, we started with a watermelon and feta salad over arugula tossed in a light olive oil vinaigrette, with pickled onions. Next up was penne pasta in a spicy sun dried tomato and roasted red pepper cream sauce. This was followed by oven roasted strawberry grouper topped with roasted corn salsa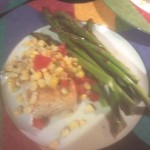 and served with roasted asparagus.  (Can you tell I like roasting stuff? It's so easy… just season stick in there and come back when it is finished.) The wines up until this point included: 2007 Brovia Ca' Mia Barolo, 1999 Banfi Brunello di Montalcino, 2006 Numanthia Termes and a 2003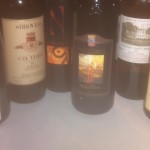 Chateau Saint Pierre. I thought it was a great wine night. All the wines were drinking nicely and there was not a dud in the bunch.
Next up was a cheese course with Stilton, Gorgonzola, 12 month aged Manchego, a creamy cow's milk cheese from the USA and some Saint Nectaire. These were all served with bread, honey and jam. I seem to have forgotten to put out the pears that were also meant to go with this course. Oh well, nobody noticed. With the
cheese we enjoyed a 1985 Dow's Vintage Port.
Dessert was a triple chocolate tart – chocolate graham cracker crust filled with a chocolate ganache filling and topped with a chocolate glaze. I finished the whole thing off with Godiva liqueur whipped cream and some fresh raspberries (you know, so we could call this "fruit"). We ended the meal with a delicious, yet unnecessary Carlisle Montafi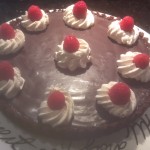 Ranch zinfandel. It was a great evening.