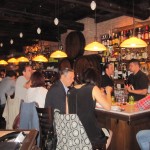 We arrived in New York for a very short visit last Friday, and promptly had dinner with friends, my cousin and soon to be cousin-in-law (Is that even a thing? I think I'll just keep him in the friend category) at our home on the Upper West Side. Naturally, by "our home" I mean "our friends' home where I am in a constant state of sleeping on the air mattress and inviting people over for dinner." They take the mi casa, su casa thing to the extreme and I reap the rewards.
After a lovely meal and a good time catching up Friday night, we woke up and walked around the UWS on a beautiful day. The sun was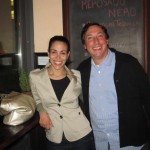 shining, it was not too hot and I was wearing the comfy shoes. Life was good. I managed a quick stop in Ricky's to buy some makeup and wound up with all sorts of fake eyelashes, glitter and other stuff for Fantasy Fest. As we passed by Grom I realized that nothing says breakfast quite like gelato, so we indulged in some Bacio and Pistaccio gelato. Hey, there are nuts and milk, so that is protein, right? Our friend that lives in Florence swears that Grom is the best. I disagree that is the best in Florence, but in New York, I'll take it.
That evening we stopped over to see friends on the Upper East Side before going to dinner with them. We sipped champagne and played with the pit bull that has forever changed my view on pit bulls and breed specific legislation, but that is a topic for another day, and then headed downtown to Osteria Morini for dinner.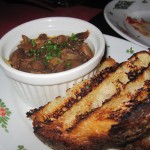 The dinner was a 40th birthday celebration. There seems to be a lot of that going on in my world this year.As we waited for the rest of the party, there were 13 people in total, I wondered how it would go. The restaurant was crazy busy and it seemed like even if we were seated reasonably close to our 8:45 PM reservation time, there was no way we would end up with good service. But our friends have been there many times and liked it a lot, so I remained cautiously optimistic.
The menu is small, with a few appetizers, meats, cheeses, pastas and entrees. We had a bunch of appetizers for the table, including 5 year aged Parmesan with honeycombs and cherries, artichokes with a garlic dip and a couple of others. I also ordered the sformato, a Parmesan custard topped with braised mushrooms. I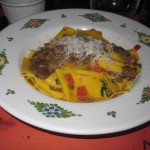 was glad that someone else ordered one for "the table" as I was not ready to share the ramekin of deliciousness. It was so good, in fact, that I will be trying my hand at making a version of this tonight. I'm guessing the first time won't be as amazing as the Michael White tried and true recipe, and they have been remarkably silent in my Twitter request for the recipe.
Everyone I saw had pasta as the meal. I am not sure if anyone had meat or fish, but they missed out on amazing, perfectly cooked, flavorful pastas. I had the pasta with mushrooms, which the waiter was quick to point out that both of my dishes were mushroom based. I appreciated the heads up, but I just don't think you can have too many mushrooms, especially if they come alongside cheese-y custard and perfect pasta.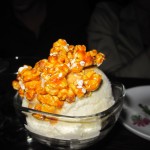 Birthday Boy (which was a whole different Birthday Boy than at Bern's) took the wine list and stared, and when the waiter came over for the third time to take the wine order, he handed me the list and said "Do you mind? " Of course not. A liter of house white (delicious and on tap), a few bottles of Barbera D'Alba and then some house red all made our 9AM train the next morning a little less palatable.
Overall, a wonderful weekend with people that I do not see nearly often enough.