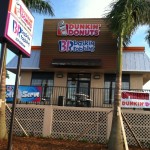 Dunkin' Donuts has really good coffee, and now you may win some of that black, caffeinated goodness for a year. If you are one of the first 100 customers tomorrow, Saturday, February 23 you will win one free coffee a week for a whole year. That should keep you awake for a little while.
So, not only can you get donuts (chocolate honey dipped are my favorite, although I am a sucker for fun colored frosting), and all the other good stuff DD has to offer, but in the same shop is Baskin' Robbins. What is so special about these franchises? Well, for one thing, Baskin' Robbins makes and decorates all their cakes right in the shop. Which means that you can get custom orders done with just a day or two notice. DD also does custom color frosting and special orders.
I spoke to Robert Hensley, President of McNulty Management, the franchisee for the Keys locations. He explained to me that they are committed to being a part of the Key West community. As such, they plan to donate donuts to events supporting our schools, as well as other community events.
To sweeten the deal, they are going big with the grand opening celebration. Show up on Saturday and you may win one of two scooters,   one of four bicycles or a parasail, jet ski, glass bottom boat or snorkeling tour for two. What's the catch? You will need to come to the store on Saturday to pick up your loot. You don't necessarily have to be there for the drawing.
The grand opening is shaping up to be a great party, indeed.  If you read this blog, you know how much I love ice cream, so I will undoubtedly be stopping by for a pint or three.  Dunkin' Donuts and Baskin' Robbins are located at 3124 N. Roosevelt Blvd (in the former KFC building). Brave the traffic.