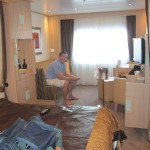 To say I was desperate for a vacation is a pretty big understatement. FKGuy and I were stressed out and exhausted. We were thrilled to board the Seabourn Quest in Fort Lauderdale for a twelve night cruise. From the moment we were taken onboard, we knew we were in for a treat.
As we walked up the gangway in Fort Lauderdale, the first person to greet us was the lovely Leigh, a friendly face that we immediately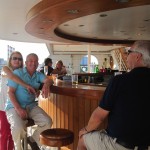 recognized from our Spirit cruise two years ago. We were whisked onboard, greeted by another friendly crew member and taken to The Colonnade to enjoy lunch. As the first glass of champagne was poured, we instantly started to relax (despite still being in the rather industrial Port Everglades.)
As we made our way into The Colonnade to find a table, I heard my name called, loudly, from one table over. As I looked over in a moment of sheer embarrassment for not having any idea who was calling out to me, by name, no less. I realized a moment too late that I have described myself on the Cruise Critic message board as easily recognizable "by the big pink strip across my otherwise short black hair, as the constantly filled champagne glass would not distinguish me."  We were off to a splendid start, me being embarrassed, but meeting new friends (and starting with the champagne.)
The ship is stunning – understated and elegant at every turn. Our cabin, on deck 4, and without a balcony, is a marvelous place to call home for the duration of the cruise. Coming in at a comfortable 295 square feet, we have a sitting area, dining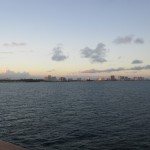 table, refrigerator stocked with soft drinks, water and beer, as well as a welcome bottle of champagne (that thus far remains untouched) and a giant bottle of Maker's Mark. I would be remiss to not mention the gorgeous bathroom, done in marble and granite, with double sinks and a separate tub and shower, complete with Molton Brown soap and shampoo.
If you've read this blog before, you may be wondering why on earth our champagne is still untouched? Well, with open bars throughout the ship, welcome glasses of champagne, sail-away parties and amazing servers that see it is as their mission on our cruise for us to never have an empty glass, we simply have not had the time to get to it. Yet.
We took a tour of the main galley the other day and saw where all of the magic happens. There is a guy who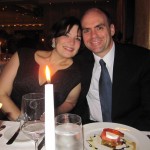 makes all of the ice cream onboard (thus far, I have only had the macadamia nut and it was quite good.)The ovens are on at all times baking everything from croissants to the amazing breadsticks served in the dining room at lunch and dinner.
The passenger mix seems to be interesting and definitely skews younger than our last Seabourn Cruise on the Spirit. Although the service is not quite as personal, with 437 guests aboard it seems impossible to be quite to the level of everyone knowing our name, as they did on the Spirit.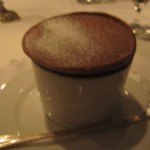 The cruise thus far has been nothing short of delightful. We have played trivia (won once. Came in second once… many more to come), we have lounged in the hot tub and by the pool, and naturally we have befriended bartenders.