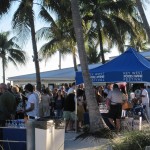 Last night was the kick off of the Key West Food and Wine Festival, and there is no better place to do that than on the sand at the Southernmost Hotel on the Beach. Tables with wine and food are set up as guests mingle and the sun sets.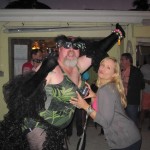 After the sun sets, groups of people board trolleys to start the neighborhood strolls. This year, we chose the Quieter Side of Duval,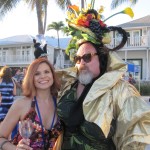 taking us from Croissants de France for lemongrass beef skewers and French red. The next stop, Le Petit Paris is one of the newest restaurants on the Key West dining scene (which is why you haven't seen a review here yet). They served black pepper and lavender dusted scallops with Caymus Conundrum, in a lovely and festive outdoor setting.
The next two stops on the stroll were less successful, with nine one five being completely out of food (they were serving Dungeness crab wrapped in tuna sashimi), but at least they had wine. Blackfin Bistro, normally one of my go-to places, were completely out of both the conch cake they were serving, as well as the Cubanissimo pinot noir (I was far more disappointed in the lack of wine, I must say).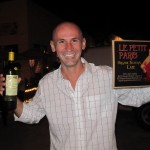 The final stop, Better Than Sex, served a white chocolate, popcorn, caramel cheesecake thingy. It was delicious. We had been meandering around the stroll with friends, and at the end, the skinniest of the bunch
proclaimed her hunger(actually she had been doing that the entire night) so about ten people ended up at our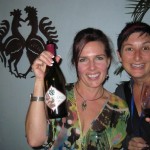 house, eating gross pizza. I did try to steer the crowd to actually good pizza (like the version we had the night before from Luigi's), but the three pizzas ordered from the delivery chain were devoured in mere moments, so I guess it didn't really matter in the end.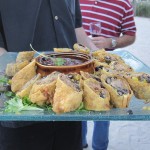 We ended the evening much like it started, with good wine, friends and food. Plus, the relatively new couch even managed to come out of the pizza spill unscathed.