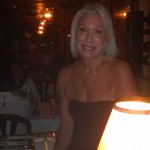 Cafe Seville has long been regarded (by me, and many others) as one of the best restaurants in Fort Lauderdale. It is not trendy. The menu hardly changes. The room is dark. So what is so great about it? The food, the service and the friendliness of the owners. What more could you want?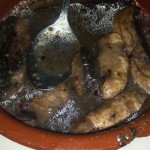 It is a small place, with a bar at the back if you need to wait for a table. But you should always make a reservation. The menu at Cafe Seville is supplemented by a giant dry erase board filled with daily specials. They have several preparations of fish, and they are all good. One of our favorites is the "Santa Fe" preparation which has a tomato based sauce with basil and jalapenos. It is a perfect blend of spicy and flavorful. FKGuy gets it every time we go. Another favorite of mine, is the "Costa Brava." I shared the Corvina Costa Brava with my mom, as the portions are huge. The Corvina was prepared with a sauce of tomatoes, scallions, white wine and garlic.
When they say there is garlic in  the sauce, they mean it. There will be no vampires at Cafe Seville. The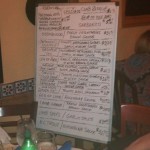 garlicky goodness is in just about everything, too. We started with the portabello ajillo, in a garlicky sherry sauce. The mushrooms are tender and flavorful but the star of the dish is the sauce. Make sure you have some extra bread around to sop it up. Trust me on that one.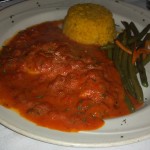 The service at Cafe Seville is attentive and friendly. One of the most impressive things about it is that in the ten, or so, years we have been going there, much of the staff has stayed the same. The owners, Joe and Sally, are always present to make sure things are running smoothly, and to offer a smile.
In short, if you are in Fort Lauderdale and haven't eaten at Cafe Seville, you have been missing out. Go. Expect to be full and garlicky after the meal. Cafe Seville is located at 2768 East Oakland Park Boulevard in Fort Lauderdale and is open Monday through Saturday for dinner and Tuesday through Friday for lunch.