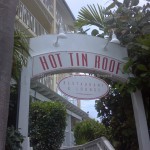 Have you ever gone to a restaurant, looked at the menu and said to yourself "Hmmmm… this looks so good, I'll have one of everything" ? Well, that is kind of what happened last week when I was invited to a blogger lunch at Hot Tin Roof, at the Ocean Key Resort in Key West. In celebration of the new lunch menu, we were served miniature portions of nearly everything on the menu. 
It was an overcast and slightly rainy day (go figure – it is July in Florida), and we were seated on the beautiful outdoor patio (completely covered and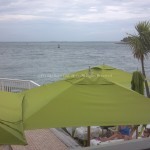 protected from the elements). For each course, the chef and bartender both came over to talk to our group about each preparation. I'll start with the cocktails… each is named after a Tennessee Williams play, and each is well thought out. We started with Suddenly Last Summer, moved on to The Glass Menagerie and the Sweet Bird of Youth and finished with my favorite, The Night of the Iguana. The Night of the Iguana is filled with Avion tequila, blood orange and lime juices and finished with cava. It is fruity, slightly sweet and bubbly – the perfect accompaniment to lunch. Or Thursday. Or any other day. Don't worry, the recipe is at the end of this post. Enjoy.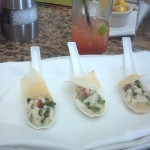 But how was the food? Overall, excellent. We started with the black grouper ceviche, one of the highlights of the meal, complete with Fresno and Poblano peppers and a healthy dose of lime. Fresh and bright, and it is served over ice with a cool light in the bowl. We also enjoyed shrimp cocktail (which can be ordered off the menu by the piece, and is made of Key West pinks), Caprese salad, and a crab cake sandwich. The beef skewers with chimichurri were outstanding, and I heard rave reviews of the pork empanada. The fresh catch sandwich was done with mahi mahi and served with a cajun remoulade, watercress and grilled onions. We got this alongside a chorizo melt, which was immediately followed by the burger (10 ounces, for the full sandwich, served medium rare with blue cheese and bacon).
To say it was too much food is an understatement, and then it was followed up with dessert. Of course we had the Key Lime Pie.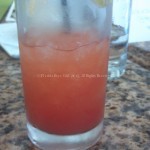 It is topped with a thin layer of Chantilly cream and a dollop of fresh whipped cream. I know there are those (like my friend sitting next to me at this meal), who don't think whipped cream is a big deal, but I am here to tell you that if you are one of those people, you are wrong. Sorry, but it is true. The fake stuff just doesn't taste right. Fortunately, Hot Tin Roof does not seem to do anything halfway, and the pie was no exception. Creamy, tart and rich, it was everything a good Key Lime Pie should be.
Lunch at Hot Tin Roof is new, but it should not be overlooked. It is quite good, and throughout the summer there is even a deal for locals (50% off, if you show a local ID). I can tell you that I will be back. Sooner, rather than later.