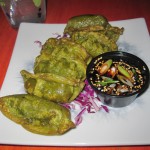 I'm always a little leery of "vegetarian" places. I've been to several in other places where either they try too hard to be a "real" restaurant or they are just mediocre places to get tofu. Fortunately, The Cafe is neither. The Cafe offers mostly vegetarian fare, which basically means no land animals. They do, however, offer fresh fish.
The other night, after seeing Horrible Bosses at the Tropic Cinema (it was laugh out loud funny), we wandered over to The Cafe for dinner. Having never been there, we really didn't know what to expect.
They are having a summer white wine special with about eight wine choices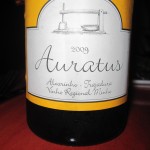 for $20/bottle. We chose the Auratus Alvarinho, which paired nicely with our food choices.
OK, on to the food. We shared an order of the spinach gyoza dumplings. I am a sucker anytime I see vegetarian dumplings, as they are usually filled with pork or shrimp and as those are not in my diet, I generally have to pass. These dumplings were well cooked and flavorful. I loved the filling and fried, tender shells.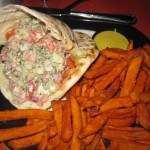 I then had the Felafel special, which had artichokes and pesto, in addition to the more traditional hummus and Israeli salad. The artichokes and pesto were quite good stuffed in the pita alongside the chickpea patties. The sandwich came with an absurdly large portion of sweet potato fries.
FKGuy had the stir fry with soba noodles, Szechuan sauce and seared tuna. The stir fry bowls come with a choice of brown rice, flat noodles or soba noodles. the stir fry is mixed with vegetables and the sauce he chose was spicy and delicious. I'm already thinking about when I can go back and have this again, it was that good. As an added bonus, it was (at least seemingly) healthy.
The atmosphere is casual and service is friendly. The menu is different from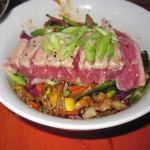 just about everything else is Key West, and everything  we had was good. Would I go back? Absolutely, just not on a Sunday, as they are closed then.