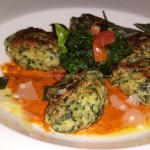 When my friend Donna suggested Square One for dinner the other night, I was a little hesitant. Naturally I said yes, because any time someone else comes up with a plan (so I don't have to), it is a good thing. Plus, she has good taste.
It is the third incarnation of this restaurant since I have been in Key West. The first was tired, and had shower curtains in lieu of bathroom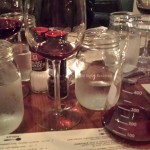 doors, a complete deal breaker for me. The next version was OK, but nothing too exciting. I was there once and never had the need to go back. The third time, it seems, is the charm, because the current version is fantastic.
Now owned by the folks behind Banana Cafe and The Cafe, the menu is an eclectic mix of a zillion things that I actually want to eat. Narrowing down the choices was a challenge. The first tidbit that was brought over were the pretzel bites, with a mustard butter. I had high hopes for the rest of the meal. We started with the spinach gyoza (from The Cafe) which is one of my favorites. The spinach dumpling is filled with vegetables, fried and served with a ponzu dipping sauce. Delicious. We also shared an order of the oyster mushroom carpaccio, with avocado, orange, fried capers and brown butter, and it was not only delicious (note the brown butter) but one of the most interesting dishes I have had in a while. I kept saying I would be coming back just for that dish. That is, until the entrees arrived.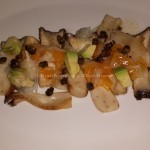 The one thing that immediately caught my eye were the gnudi, because it is fun to say (nyoo-dee) and you don't often see them on the menu in the US, at least not in Florida. Gnudi are, essentially, ravioli filling without the ravioli. It is a no carb, no pasta dish, but you get to kind of feel like you are eating carbs, This one came with a smokey romesco sauce and fried sage. It is so good that our friend had it for the second time in a row.
FKGuy had the grouper in a roasted tomato, white bean saffron broth, which was delicious. Our friend had the short rib with marscapone polenta. I am the first to admit that I am not a huge fan of polenta, but add a bunch of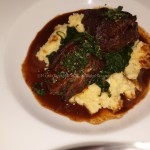 creamy marscapone, and clearly I can be converted. Just as I could not put another morsel of food into my mouth, we were presented with dessert menus, and in the interest of "research" decided to share a coffee and donuts for the table. Coffee cream covered in whipped cream served with freshly fried donuts. I don't really need to say any more do I?
An interesting note about wine: They have wines on tap. Four whites and four reds available by the glass or half carafe. We had a half carafe of the Tablas Creek Paletin de Tablas, 2012, and while it was not my favorite of the Tablas Creek lineup, it was tasty. It did come in a sort of odd beaker, making us feel like we were in science class. The wine list is fine, and they also allow corkage at $15 per bottle.
Square One is located in Duval Square, 1075 Duval Street and is open for Happy Hour daily 4-6 PM, and for dinner 6-10 PM, and late night Thursday – Saturday 10 PM – Midnight. Check them out.