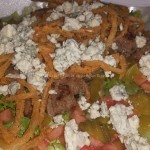 I recently got an invitation to try Gimme A Burger in Pembroke Pines, and since it doesn't take much convincing to get me to eat a burger, naturally I readily accepted. Now, I will say that I find the name a little off-putting, but I was intrigued by the concept of infused burgers. The beef (fresh, not frozen) is mixed with spices or other ingredients to create the infused burger, rather than simply slapping toppings on it.
While they do a brisk lunch business, this location has only been open a few months, and to incentivize the dinner crowd there are specials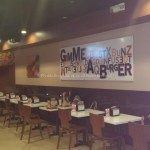 every night. From buy one get one free deals to half price beers, there are a lot of good choices. Gimme A Burger is an order-at-the-counter kind of place, yet everything is made to order. But how is the food? It is great. Really.
I expected run of the mill burgers, fries and wings, but what we got was something worth driving out of your way for. I had the Steakhouse burger (infused with steak sauce and mushrooms and topped with Tabasco fried onion rings (which are as delicious as they sound), and I had it all served over a salad. The salad was crisp and flavorful, and the burger was chopped into the salad. I could eat a version of that every day.
FKGuy had the Wow burger, which is infused with a Turkish spice blend and topped with all beef Turkish sausage. While I don't really like sausage, I see where they got the name. One bite and the first thing to come out of my mouth was "Wow." As for the accompaniments, the seasoned fries were perfect, the sweet potato fries were only okay, and the tastes of the new-for-the-season peppermint shakes were to die for.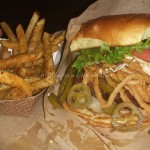 We also tried an order of lemon pepper wings, which was suggested by our server, who was not only helpful but genuinely sweet. Lemon pepper is not usually a flavor profile I would pick when I could have say, Buffalo, or BBQ, but I am glad I let her pick for me, as they were delightful. Lemony, peppery and not at all greasy make for a darn good chicken wing.
Overall, Gimme A Burger is really good. I would go back in a minute. It is perfect for a quick, not fancy meal, where you are assured good food. Gimme A Burger is located in Pembroke Pines at 2010 N. Flamingo Road, and is open daily for lunch and dinner. Check 'em out.