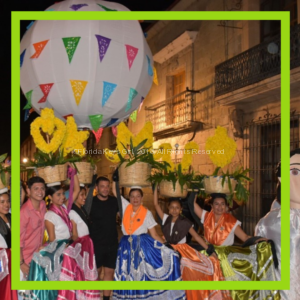 Most people love the beaches of Mexico – which are quite beautiful – but there are so many other places to explore.  One of my favorite places is Oaxaca.  Luckily for me there are nonstop flights from DFW so it is an easy long weekend getaway.
Oaxaca is a small charming Spanish colonial gem.  Known for mole sauces that take all day, cathedrals, colorful handwoven carpets and rugs, and brightly painted carved wooden sculptures, it even boasts a UNESCO World Heritage site.  I enjoy Oaxaca because of its genuineness: traditions hundreds of years old are still being honored.  Celebrations run the gamut from graduations to weddings, with parades, including costumes and lots of street dancing.  My bucket list includes going back for the Day of Dead celebration in early November – I have a feeling it would be like none other. (Don't worry, I'll report back!)
The downtown is centered around The Temple of Santo Domingo (Temple de Santo Domingo), Oaxaca's most emblematic and iconic landmark. A visit is a must on any tour exploring this wonderful city. It is both a working church as well as a museum, and you will learn a lot about the history of religious orders in Mexico. You also get an overview of the impact that their arrival had on the indigenous population. But that's not all! If you go to the back of the temple you will find the entrance to the botanical gardens, which currently have plenty of interesting endemic plants only found in Mexico.
Monte Alban, the UNESCO site, is the site of ruins of an ancient center of Zapotec and Mixtec culture. Carved out of the mountain, the ruins are symbols of a sacred topography.  There are a lot of many interesting temples and pyramids to explore so I really recommend you take a guided tour to fully understand the ingenuity and way of living of the ancient Zapotecs.
Pro tip: Grab a lot of water and a pair of good shoes because you'll be walking a lot!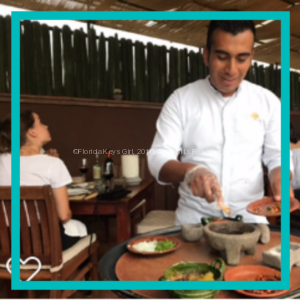 Our guide stopped in the beautiful town of Santa Maria del Tule to show us the stoutest tree trunk in the world – it has been placed on a tentative list of UNESCO World History sites.  Who knew!
You have to visit Hierve el Agua and its petrified waterfalls. First and foremost, although the name itself would certainly imply boiling water (literally, that's what Hierve el Agua means), the truth is that you can actually swim in the three natural pools located within the area.
Pro tip: Even though the name means boiling water, it is actually very cold.
Of all the charming towns around Oaxaca City center, the one that you really shouldn't miss is Tlacolula, a very interesting off the beaten path destination located close to Oaxaca.  The main attraction of Tlacolula is the archeological ruins of Yagul, a rarely visited site that, despite being smaller than Monte Alban, offers a more intimate experience thanks to its isolated nature. Plus, you can enter some of the ancient tombs and hike towards some epic cave paintings.
The Food
Oaxaca is known, both within Mexico and worldwide, for the amazing food.   Whether you are enjoying watching guacamole being made tableside at an upscale restaurant or eating street food, you will be impressed.  Did you know that Mexican cuisine was the first to receive UNESCO culinary heritage status?  (Yes, my husband likes to visit as many UNESCO sites as possible around the world!) The food you will enjoy in Oaxaca played a role in receiving that designation.  I've scheduled a private cooking class on my next visit, so I can bring the flavors home with me.  The tour starts at the market, shopping for the ingredients, and then to the kitchen to prepare your meal. I am looking forward to the sights, smells, and learning more about the local ingredients.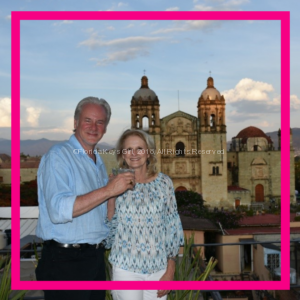 Because of its location surrounded by mountains and the fact that the city center is free of skyscrapers, it is more than possible to enjoy wonderful sunsets and sunrises on most rooftops in Oaxaca City.  If you take a walk in Oaxaca's historical center you will find at least two rooftop cafes/restaurants/bars in every corner. I promise it will be hard to choose the best one. My favorites are the ones directly in front of the Temple of Santo Domingo, as they are the tallest of the historical downtown. Ask for a table on the top level.  My picture is from that very spot, on a beautiful evening several years ago.
I hope this has piqued your interest about Oaxaca.   It is a very culturally rich town which makes you feel right at home.  Let me know if you have any questions about Oaxaca or would like to plan a trip to visit.  We are going the end of May – you could always come with me.  Don't forget to include a mezcal tasting!
Te Veo Pronto, Hope to see you soon!