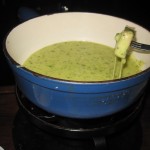 I hadn't been to Michael's in several years. Last weekend, I had a hankering for some fondue, so off we went. Michael's is best known for being a steak house, having long waits and being a little annoying about seating you sans reservation.
Last Sunday night I did not make a reservation – seriously, it was Sunday, early October, and the town is completely dead. No chance I was calling ahead anywhere. Sadly for me, but good for local restaurants, that will change in two weeks.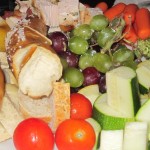 Alas, the host was grudgingly going to seat us outside, but when I said the word "fondue" he instantly told me, in a reprimanding sort of way, that fondue was only served at the bar.
We did end up sitting at the bar, specifically so I could indulge my need for gooey, delicious, melted cheese with large hunks of bread and vegetables (hey, vegetables are healthy!) to dunk in it. The fondue menu offers a choice of six different varieties – from the classic Gruyere and Emmentaler to a beer-spiked cheddar, and several in between. I had the "Pesto Pot" which is described on the menu as "The Classic spiked with a hot pepper and basil pesto". I didn't really get any hot pepper here, but the pesto-y, cheesy concoction was delicious.
The fondues are served with a giant plate of vegetables – broccoli, yellow squash, zucchini, carrots, tomatoes and grapes (yes, I know grapes aren't a vegetable, thanks), as well as bread and some assorted meats, if you are into that sort of thing.
A woman sitting next to us at the bar was eating a huge, bone-in ribeye steak, covered with sauteed onions and mushrooms, that looked absolutely divine. She was nice enough to offer me a taste – which I declined, just so you know. But that is the way Key West is: perfect strangers just offer you a taste of their food.
Overall, Michael's has a beautiful outdoor seating area. The inside is a little overdone-Southern-hotel for my tastes, but in Key West who sits inside anyway? The fondue is to-die-for, and service at the bar is excellent. I'll most certainly be back.
Incidentally, later in the week, the perfect stranger became Florida Keys Guy's hairdresser. You just never know where you will meet good people.