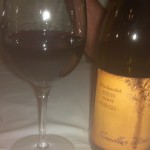 La Trattoria is an Italian restaurant located right on Duval Street. Their bar, Virgilio's has live music and a lovely outdoor garden. LAst summer they opened another location near the airport. This is the former Martha's location, and has beautiful water views. Of course we went after dark, so not so many views.
The place is huge. I have no idea how many people it seats, but it is a lot. Certainly more than most small Key West places. The dining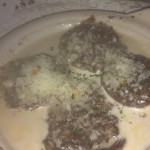 room is three levels, so everyone gets a good view. We were seated in the front  room, right at a window with perfect ocean views. Well, I"m sure if we were there at sunset it would have been perfect – for us it was just dark.
We decided that since it was not raining we would bike over there. It is, according to Mapquest, 3.3 miles, which should have been easy. Unfortunately, it was rather windy and we had a head-wind the entire way. So, going was a bit unpleasant. We arrived a big, sweaty mess. We were quickly seated and brought water, which we drained instantly. Our waitress, who was absolutely wonderful, kept our water glasses filled throughout the night.
We had brought a bottle of 2007 Sandler Buck Hill Zinfandel with us, ($15 corkage fee) but given how hot we were, we  opted to start with a half bottle of Murphy Goode Sauvignon Blanc. At $15 it was a great bargain, crisp and enjoyable. Then we moved on to the Zin.
As for food, I was excited to try "Oceanside" as I had seen a delicious sounding special mentioned on Facebook.  Unfortunately, they were sold out of the special by the time we got there. The menu is exactly the same as the downtown location, and we chose to start with an old favorite, mushrooms, stuffed with breadcrumbs in a parmesan cream sauce (hey, we had about 6 and a half miles of  biking that night).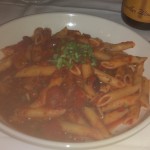 For entrees, we shared a pasta and a fish. The penne puttanesca with perfectly cooked pasta in a tangy tomato sauce with olives, capers and garlic. Proof that everything really is better with capers.  The yellowtail was sauteed with capers (see?), tomatoes and garlic and served with green beans and rice. it was delicious. My only issue is this (and I have the same issue at the downtown location): the rice served with the entrees is not very good, and pretty much useless. I would love to see them serve either a small side of pasta, which they do quite well, or nothing. Just leave the fish and the vegetable and call it a day.
The food was great (except the rice), the atmosphere lovely and the service was flawless and friendly. The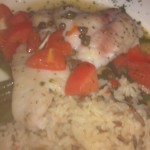 bike ride home was not at all windy and much more pleasant. Would I go back? In a heartbeat. Assuming, of course, that the weather is conducive to a nice, leisurely bike ride.
La Trattoria is located at 3593 South Roosevelt Boulevard.