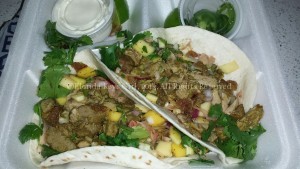 There's (another) new game in town, and it is Death by Tako. It is sure to be a huge hit. I am not loving the name, because I really do not want a tortilla stuffed with meat and veggies to be the end of me. The food on the other hand, is awesome.
Death by Tako opened about a week ago in a nondescript strip on North Roosevelt Boulevard, across from Bayview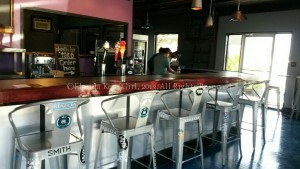 Park (which makes it a really handy post-tennis lunch or snack.) They are sharing the waterfront space with Mellow Ventures, a snorkeling/paddle boarding/fishing charter company.  Inside, there are bar stools and a few tables, and outside there will be a few tables (coming soon, we are told).  They also do take out and delivery.
Chef Andrew Nguyen, formerly of Square One and 430 Duval, has come up with some truly interesting combinations, and a few things that normally don't get stuffed inside a tortilla. But they work, and leave you (me) craving more.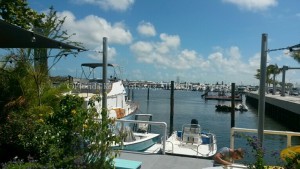 Every order of tacos has two per order and comes with a side of sour cream and fresh, sliced jalapenos. Prices range from $9 – 13, and they are pretty big portions. That did not stop FKGuy and me from polishing off three of them. The best one we had was the tandoori duck confit taco, with pickled ginger, mango and charred green onion. Full of flavor, interesting and crave-worthy. This was a big winner.
We also had the fish taco. Key lime marinated mahi mahi with avocado, tomato and sesame slaw. It was very good. But, in the hierarchy of fish tacos, this one ranks somewhere in the middle. I would certainly eat it again (and again, and again), but there are better ones around (like Garbo's, and further up the Keys, Smuggler's Cove where their version comes with tasty coconut rice). That being said, you could do a lot worse than a fish taco here.
Finally, we tried the lemongrass braised short rib with Brussels spouts, kimchee, toasted peanuts and cilantro. This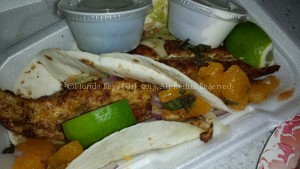 was another one bursting with flavor. Yes, I am a sucker for anything with kimchee, and there was a perfect amount of it in the taco – enough to taste it, but not enough to overpower.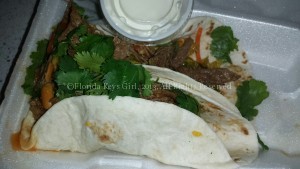 It is easy to say that each taco was excellent, and I would not hesitate to order any of them again. I am also looking forward to trying a few of the others, like the goat cheese and beet taco, with crushed candied walnuts, or the shrimp with cilatro chimichurri and roasted poblano and sweet corn. You really can't go wrong here. Death by Tako is located at 1605 N. Roosevelt Boulevard, and is open Wednesday through Sunday, from 11 AM – 7 PM.