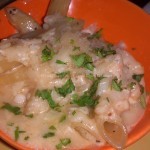 It is summer, and you know what that means: the snowbirds have gone, the sun is (supposed to be) shining and it is time for summer specials to start popping up at restaurants. Nine one five has half off wines all summer (I'll be reviewing soon!), Cafe Marquesa has two courses for $22 and, most recently, The Flaming Buoy announced a new small plate menu.

They have taken their regular menu and shrunk the portions, and prices. On the "Bites" menu, enjoy 5 courses for $22. Have a side salad, three mini portions and a mini dessert. There are several reasons why this is such a good thing.
Food is the same yumminess that we have all grown accustomed to, but there are some new menu items;

You get to eat more things at one meal (always good);

It is not just food – there are by-the-glass wine specials, too;

Dinner is both lighter and less expensive. Woohoo!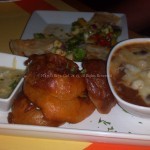 We had decided last minute to meet some friends ("What are you doing for dinner?" "Flaming Buoy new tapas menu" "OK, meet you there in 20,") which not only means we get to sample more menu items, but we will undoubtedly be drinking too much wine, and have loads of fun. The menu includes salads (wedge, spinach or caprese), but tiny versions. Well, the spinach isn't really all that small, but it is a perfect "hmm I should have lettuce but really want something bad for me…" portion.
New to the mini menu is the chili cheese coney. Yep, that is a three inch hot dog, on a bun, smothered in chili and cheese. If Scot, one of the owners of the Flaming Buoy, doesn't finish them all himself, you may get to try one. There are also small versions of black bean soup, lobster mac and cheese (again, if you want something bad for you, but not too much of it), mini shrimp quesadilla, and the to-die-for onion rings with blue cheese sauce. They have even managed to shrink down the NY strip steak, by slicing it and serving it on a crostini. The desserts seem to have been miniaturized, too, just for this special menu, and I love it. I always want dessert, but never have room for the  full size version.
This menu is available all summer long Sunday nights through Thursday. But what if you can only go on the weekends? There is something in it for you, too. I hear they will be offering half off bottles of wine with the purchase of an entree. That is what I call a win-win. Oh, and if you want a full portion of something, the regular menu is always available.