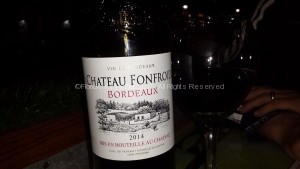 We have been to Banana Cafe exactly once before. We've ordered lunch delivery a few times, but have never been there for dinner. Everything that we have had, with the exception of the cheese crepe on our first visit, has been very good, so we decided to give it a shot for dinner last week.
Banana Cafe is a lovely French bistro. It is small, charming, and they have a lovely menu. It is not, however, without fault. We sat down, ordered a bottle of inexpensive wine (Chateau Fonfroide, Bordeaux) and enjoyed the view of Duval Street. It was a Tuesday, and quiet out, so there was not too much to see. On order: French Onion Soup, friend grouper cheeks and baby lamb chops.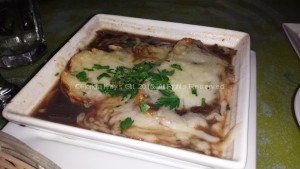 Everyone has their own pet peeves, and FKGuy's is hot soup. It should be served burn-the-roof-of-your-mouth hot, or it is not hot enough. No lukewarm soup for him. Ever. The soup comes, and it is, in fact, hot, at least for the first thirty seconds. You see, this particular soup was served in a low, flat bowl. Not only did the cheese gunk up on the bottom, but it cooled very quickly. They are going to need some proper French Onion Soup crocks. If I can have them at home for when I make onion soup, certainly a French bistro should have them, oui? Other than that, the soup was tasty.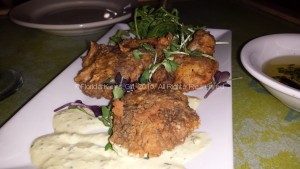 Next up, the grouper cheek appetizers. These were a special, fried and served with a remoulade. Crispy on the outside, flaky and tender inside, I would order them again next time. It was a good night for specials at Banana Cafe, as our final dish was lamb chops, served with potatoes and beans. Cooked to a perfect medium rare, the two double chops were an ample portion.
The night we dined in, there were only two other tables occupied, and by the time we left we had a private room. Overall, both food and service were quite good. Would I go back? Absolument.