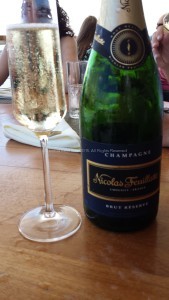 Perfection is overrated. I've said it before, and I am saying it now: expecting perfection leads to disappointment. Plus, if you have no mishaps, you likely also have no good stories to share, and where's the fun in that? Most people get that concept until it is time to plan their vacation. Then, all of a sudden, the smallest thing can send them over the edge.
FKGuy and I are going on a much-anticipated vacation in a couple of weeks, aboard the Seabourn Quest. Our itinerary takes us from Fort Lauderdale to Monte Carlo with a few stops in between. We've been on the Quest before, and it is a fabulous ship. The crew is an amazing group, fellow passengers are happy, the food is terrific, and the Champagne is free-flowing. I am pretty sure that it will not be perfect, though.
I expect there will be more activities as we will have nine straight days at sea. Yes, nine. I am sure daily trivia will reach the pinnacle of competitiveness. I am eagerly anticipating exercise classes of any kind. On our last Seabourn cruise, we had daily Zumba, which was outside my normal routine and comfort zone. I always like to try new things and doing so when I have time, and it doesn't cost anything extra makes it a no-brainer. This time, I will try whatever fitness classes are available. I have plenty free time and no agenda.
I'm positive the food will be excellent throughout the ship, despite some early rumors surrounding the experimental-but-long-awaited Thomas Keller menus. There are those that love the new dishes, and some despise them, but I am looking forward to judging for myself. I am human, so naturally I have some preconceptions (and I've read the less than stellar recent reviews of The French Laundry), but I will keep an open mind. I will not starve on this trip. Honestly, what is the worst that can happen, I have a bad meal? Unlikely. A bad dish, maybe, but chances are the rest of the meal will still be good. Plus, there is Champagne to be drunk.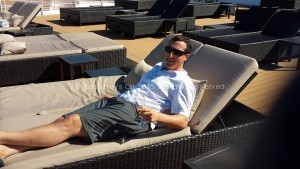 The weather is a bit of a wild card. I have been saying that the first week should be lovely, lounge poolside, cocktail in hand, weather. Alas, I am not a meteorologist, and cannot accurately predict these things. Rather, I am hoping we'll get a week of pool weather before having to don the long sleeves and pants. Last time our Caviar in the Surf event was in a downpour, so any sunny sky, regardless of temperature, will be welcome.
As of now (comfortably seated at my desk under a pile of work and social commitments every day until we leave), I plan on spending some time in the small, but reasonably well-equipped gym. Well, unless I take a class. Or we are in port (that's only three days). Or the seas are exceptionally rough. Or there is Champagne to drink. No, no, no… I will work out before the Champagne drinking commences.  After all, the more time I spend on the treadmill, the more Champagne I can drink, and I am sure there will be no shortage.
While I understand that my well-planned vacation will almost certainly have imperfections, I doubt that any of them will be insurmountable. We will simply go with the flow, enjoy the time away, read a few books, meet new people, overindulge (seriously, those breadsticks onboard are to die for!) and most importantly, relax. Once we are back, I will share tales from the sea.