When I make chicken soup, I make a lot of it. With dozens of people in and out over the holidays, it never goes to waste. Plus, having extra is never a bad thing. As the Jewish holidays approach, I plan ahead and make the chicken soup weeks in advance, then simply pop it in the freezer until it is needed for a meal. 
Using two large pots that total 40 quarts, I fill them with chicken leg quarters, carrots, celery, onion, parsnip, dill, and salt and pepper. Finally, I add enough water that the pots are extremely cumbersome and hard to maneuver towards the stove. When they are too heavy to carry, I know I have the proportions right.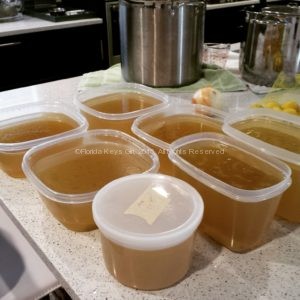 The soup cooks for several hours, filling the house with the smell of the holidays. After cooking, and cooling down a little, I transfer the cooked chicken to a pan to be sorted into meat (for future meals) and bones (to trash). Then the soup goes into easy to manage containers and into the freezer.
This year, it took two of us sorting the chicken. With nearly thirty pounds of meat and bones, it is a big job. The good news is that it feeds us for a long time. The bad news? Well, I don't want to see another chicken for a long time. This year, I froze two gallon-sized Ziploc bags full of chicken pieces. They will become chicken salad in a few weeks.
But there was still a ton of chicken left to eat.
MEAL 1: TOM YUM
A super easy way to make this into another meal is to make… soup. This is a homemade version of the Thai classic with lemongrass, cilantro, hot pepper, coconut milk, and, of course, chicken. It is quick, and since the stock and chicken were both already cooked, took about 5 minutes of prep.
MEAL 2 (and 3, and 4): CHICKEN SALAD
I love a refreshing chicken salad in the summer. Over greens or on top of leftover challah, it makes for a delightful lunch. (It is a good thing I like it because there are many more chicken salad sandwiches in my future.)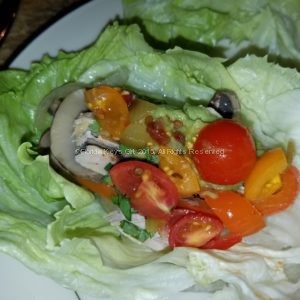 MEAL 3: ASIAN LETTUCE WRAPS
After warming the chicken, I tossed it with a sauce made of fish sauce, chili sauce, ginger, and garlic. Served DIY with a stack of lettuce leaves for the wrapping, this is an easy and satisfying meal.
MEAL 4: CHICKEN FAJITA LETTUCE WRAPS
Continuing the lettuce wrap theme, but seeking a new flavor profile, I chose to make chicken fajitas. This easy meal was served with a quick green chile salsa and guacamole from Trader Joe's. (Whatever. The avocados I had were not ripe, so it was store bought or nothing. Have you had the TJ's guac? It is quite good, and I would certainly buy it again.)
At this point, I am over chicken. Done. No more. At least until next week. The upside is that a day spent making soup provides us many future meals with minimal effort. That is my kind of win-win.