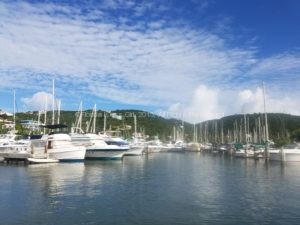 I don't swim. I mean, I can swim, but case in point: when we built our (tiny) pool, the pool guy said, "well, you won't be able to do laps here." My response? "It's more of a margarita-drinking pool than a lap-swimming one." I enjoy existing in a pool, or on the beach, preferably with a floaty, relaxing and enjoying life. The breaststroke is not my idea of a good time.  
Our November cruise, aboard the Celebrity Silhouette, called on St. Thomas. I view St. Thomas as a good place to buy duty-free stuff, but more so as a launching point for getting to St. John and Honeymoon Beach.  Last time we took the cruise shuttle over and hiked to the beach. This time we would be lazy and take a catamaran directly to Honeymoon Beach. As it turned out, there were a few issues with this plan.
THE BUS RIDE
we were put on an open-air bus and sent to meet the catamaran. Only our bus seemed to be broken. We loaded on another one and headed about twenty minutes away to the boat dock. As we boarded, we removed our shoes and got settled in for a lovely ride across to St. John.
Our crew introduced themselves and began handing out snorkeling gear, so there would be no lag time upon our arrival.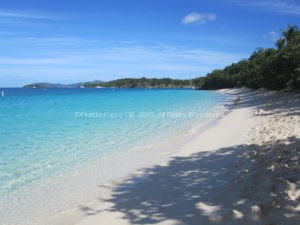 I DON'T SNORKEL
Look, I've tried to snorkel. It just doesn't work for me. Last time I tried, we were in Antigua, and the water was rough. As I bobbed up and down, gargling salt water with every splash, the boat guy kept yelling at FKGuy to fix my mask. Apparently, the strap was too low. Whatever. In the moment, it felt like I might drown, with a little help from my husband. (No, he was not actually trying to drown me. Yes, I am sure of that.)
That was the last straw. I have snorkeled before and have never really loved it. I can't ever figure out the breathing thing, and like I said, I don't actually swim, I merely exist in a body of water, preferably with a  cocktail in hand.
TROUBLE
I was immediately labeled a troublemaker on the catamaran. After all, everyone else was taking snorkels, masks, and fins. (Frankly, I am not sure what about my "no, thank you" labeled me a troublemaker. I was polite in my snubbing of the equipment.) Plus, option B was to take a dinghy to the beach. That is much more my speed.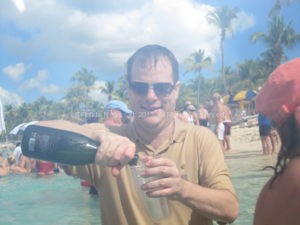 HERE COMES THE RAIN
The mocking continued as I took some pool noodles for the jaunt to the beach. (How else could I create my own floating chair, if not for the noodles?) Whatever. The only thing missing was a rum punch, and that would come later.
Our beach excursion came with a couple of options for our return: we could flail until someone noticed us and came back to get us with the tiny boat, or we could swim back. I went with option B. FKGuy raised an eyebrow, saying "you know it is farther than it looks, right?"
I know. As it turns out, I had swimming lessons before I was two years old, so I actually can swim. I usually simply opt out. But we had been eating a lot on the cruise, so…
Picture this: We both have life vests (they made us take them; they were quite unwieldy), FKGuy is carrying my water bottle (there are no garbage cans on Honeymoon Beach, you've got to cart out whatever you bring in), and I am hoisting two pool noodles above my head. It was quite a scene.
We had plenty of time and were slowly making our way through the quarter-mile swim when it started pouring. Yep, that whole scene was compounded by pouring rain, and a bunch of people on the catamaran (our friends, of course) pointing and laughing at us.
Though I swallowed a bunch of saltwater and exhausted myself for the rest of the day, I felt a great sense of accomplishment. And I still have not found myself in a situation needing to snorkel. That is a win-win.
BOTTOM LINE
As for the catamaran excursion? Next time I will take the transfer to St. John and make my own way to the beach. Though there is hiking involved, I would rather simply go to the beach than fuss with the catamaran and dinghy, despite the rum punch.