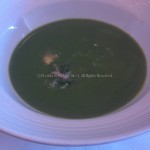 As we awoke Friday morning, I asked FKGuy if we really had become the people that obviously overstay our welcome. He agreed that we had, but it wasn't too big of a deal (fortunately we had gracious hosts). He also noted that due to the overstay we had not eaten any dinner, so our normal coffee-for-breakfast routine would have to give way for actual breakfast.
Our original plan of Wildberry Cafe was foiled by the huge line outside and Cheesecake-Factory-like-beeper system for waiting,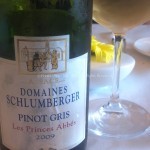 so we wandered over to Pittsfield Cafe, a small diner in the Pittsfield building. What we found was an inexpensive and delicious breakfast, complete with perfectly cooked over easy eggs. From there we took a walk, enjoyed the glorious day, and hopped on an architectural boat tour of Chicago (Wendella Boat Tours – highly recommend!) But back to the food…
Lunch was planned at Blackbird, and we had heard great things so were looking forward to it. Enjoying the humidity-free beautiful weather, we walked the mile and a half from the boat tour to lunch. Blackbird has a clean, modern dining room, a somewhat open kitchen, and is completely gorgeous. They have the regular menu in addition to a $22 prix fixe bargain. We started with a bottle of Pellegrino and a 2009 Domaines Schlumberger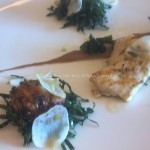 Pinot Gris, Les Prices Abbes (which the manager pronounced "an excellent way to start the day" and didn't flinch when I asked him to bring back the bottle for a photo op). They have an interesting and well rounded wine list, and choosing just one was not so easy.
The food is not only beautifully presented, but delicious. There is a choice of three starters, two mains and two desserts, so we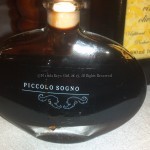 had a nice sampling of the menu.  First up was lamb tenderloin tartare which came with something I must eat more of on a regular basis: fried capers. Outstanding balance of flavors, and a reasonable portion size. I had what I called Caesar salad soup – chilled romaine puree poured over parmesan and little beans. I admit that I was skeptical of the pureed lettuce, but it was delicious and refreshing, not to mention a beautiful shade of green.
Main courses included a confit duck leg with roasted okra (shockingly delicious) and a wood grilled sturgeon and chicken wing with walnut puree. The walnut puree was weird and did not add anything, but it was easily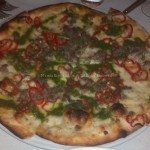 avoidable. Both the fish and chicken were outstanding, and perfectly cooked.  The desserts included a pavlova with nectarine ice cream and a berry dish with peanut ice cream, both of which made for a fine ending to a terrific meal. I would certainly look forward to a return visit to Blackbird next time I am in Chicago.
After lunch we had time for a short nap before it was time to do it all again. We went over to see my cousin's apartment (by "see the apartment" I mean "have a cocktail with a view from the 34th floor") before it was time to stroll over to Piccolo Sogno Due for
dinner. I admit, when they tweeted me that they were a "must visit" I was skeptical. Then everyone I know told me how good it was. The wine list is extensive and exclusively Italian, which I love, given that it is an Italian restaurant. We enjoyed a 2011 Vermentino Bolgheri DOC, Guado al Tasso, a 2011 Rosso di Montalcino, Ciacci Piccolomini and a 2009 Rosso di Montalcino, Tenute Silvio Nardi. Appetizers for the table included a burrata salad with roasted peppers (delicious), a pizza with lamb sausage and hot peppers (outstanding) and fried squash blossoms stuffed with fontina cheese with tomatoes (the weak link – a bit greasy). Overall, we were off to a great start.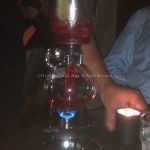 For the main course, naturally I had the fettuccine with mixed mushrooms, garlic, porcini broth and veal meatballs. Although I had a bit of help, my plate was clean at the end of the meal. Also at our table: monkfish (good), linguine with clams, garlic and oil, soft shell crabs (a food I will never understand, although I hear it was delicious) and tagliatelle with meat sauce (so good that it was gone before I could taste it).
It seemed impossible that anyone would have room for dessert, but they did. Pistachio gelato (not the best version I have had, it was a bit of a strange texture) and passion fruit sorbet (yummy and refreshing) rounded out the meal. I thought I might not consume anything else for a good long time, and then I was reminded of our 10:00 PM reservation at The Aviary for cocktails.
The Aviary was described to me as "drinking in the future." Apparently in the future, cocktails cost $24. To say this is not the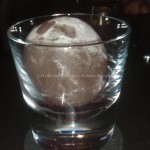 type of place I usually frequent is an understatement. People with earpieces and clipboards outside, extremely dark, and way, way over the top. They have an ice chef. (That would be a guy that just makes the ice. I kid you not.) But, the cocktails are interesting, and tasty.
I apologize for not remembering the names of any of the drinks (you know, after pre-dinner cocktails, three bottles of wine with dinner and then these crazy concoctions). FKGuy had some sort of Manhattan-like beverage, which came with a slingshot. This is a giant, round ball of ice with a drink in the midst of it. In order to get to said drink, you need to use a slingshot to break the ice. (Once broken, it was quite delicious).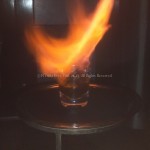 I had some sort of tea-like brewed concoction, also really good, but incredibly fussy in preparation. One of my cousins had a "school lunch" drink that came in a glass faux-milk container inside a lunchbox.  That would have made elementary school a lot more fun. Even more dangerous than the slingshot was the flaming drink (I have no idea what was in it, but it produced an awesome fire.)
Overall, I would say this about The Aviary: It is an experience. You should go (you should also take a picture of the menu for me, thanks in advance), but it is not the kind of place I need to go every time we visit Chicago. But if you feel the need to (a) feel important by getting a reservation and (b) making a big fuss out of drinks, by all means, go. Enjoy. Have you been? What did you think?