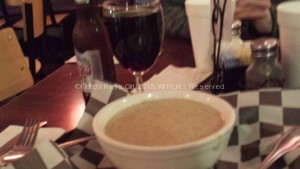 When friends talk about a place with great burgers, I pay attention. In this case, friends had been talking about Gilbert's for months. We finally tried it this week. Gilbert's is an order-at-the-counter kind of place, with surprisingly good service. The first thing I noticed upon entering was the glass case with desserts. They had a cookie topped with more cookies – Oreos, what looked like Girl Scout cookies and Pop Tarts. It's the kind of place you'd expect to see on Diners, Drive-Ins and Dives. 
On the way in there is a chalkboard with specials, and the night we were there they had a mofongo burger. That is, a hamburger stuffed with mofongo (fried plantain-y goodness – read more about it here), and topped with sofrito and Swiss cheese. What could be bad? FKGuy had a Havarti burger with bacon and garlic butter on an English muffin. Burgers come with a choice of fries, sweet potato fries or cole slaw. I had the sweet potato fries, and FKGuy, a purist, had the regular ones. We also ordered the cream of mushroom soup, from a choice of four homemade soups.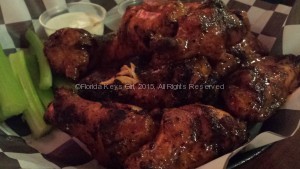 The soup was a bad idea. Not because it wasn't delicious, but rather because it was gigantic. A huge bowl of creamy soup followed by a huge burger is just way too much food. Oh well. Our friends also ordered some wings, "for the table", which we had to try. The wings were very good, and the sauce maybe a little too vinegar-y, but tasty. The side of blue cheese was more like ranch with a hint of cheese. (Pass.)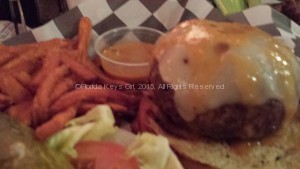 So, how were the burgers? They were great. Admittedly mofongo stuffed inside a giant hunk of beef is a little weird, and I'd try another burger next time, but they were cooked as ordered, and really, really good. The fries were addictive, and there were loads of them. Since I have no willpower, that left me feeling like I seriously overate. Oh well. It was worth every delicious fry.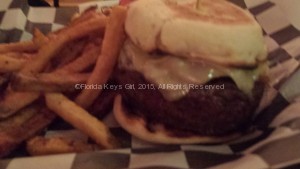 The service was very good, as there were people coming around to bring us condiments, refill drinks, and get anything else we may have needed. Sadly, nobody offered me a second stomach. Gilbert's also serves wine and beer, so you really can't go wrong here.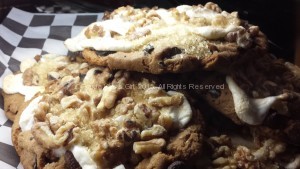 Gilbert's is located in the Harbor Shops on 17th Street Causeway, and is open Monday through Saturday from 11 AM – 9 PM. Enjoy.