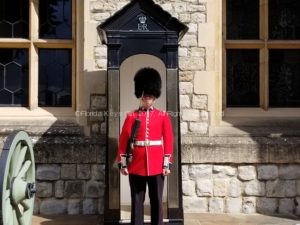 The plan was to arrive in London, get to the hotel, have some lunch and then tour the Tower of London. That didn't happen. The flight landed an hour early into London, had a fast-pass through customs, and our luggage came quickly. We were so early that our pre-booked car service hadn't yet arrived. After a short wait, a couple of bathroom stops, and a visit to the ATM, our driver had arrived, and we headed straight for Dukes Hotel.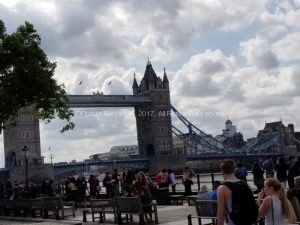 It was no surprise that our room was not ready. We simply dropped our bags, grabbed a map, and headed over to the Tower of London. By 10:30 AM we were touring the tower and headed for the Crown Jewels. It was an impressive display of bling, and sadly, no photos allowed. They even have a moving sidewalk, so you don't linger too long in front of any one jewel. While most people are only there for the jewels, I found the whole place interesting. Tower of London is undoubtedly worth a visit, but go early and buy tickets in advance to avoid crowds.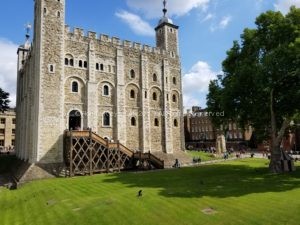 PRO TIP: Buy advance tickets to as many things as possible. Is it a hassle to be so regimented? Sometimes. But I can tell you; I would rather have a set schedule to follow than wait in line for hours on end.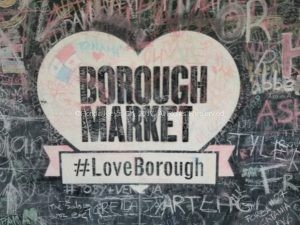 Next, we headed on foot, across the Tower Bridge and along the south bank of the Thames to Borough Market. Midday on Saturday is the busiest time of the week, and this was no exception. It was mobbed. From cheeses, groceries, olive oils, bread and chocolates to unbelievable takeaway food options, it was very overstimulating for someone that had been awake since early the day before. One look at the crowds drew a head shake and eye roll from FKGuy, and we headed to Arabica, within the market, for lunch.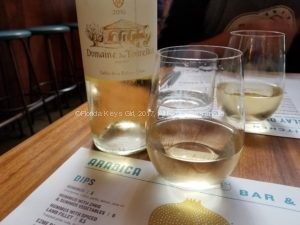 The casual setting was perfect for us. Fresh-off-the-plane and exhausted, we were in no mood for fancy. We just wanted some good food and a nap. (Spoiler alert: mission accomplished.) Lebanese white wine kicked off a fantastic Middle Eastern tapas extravaganza including, grilled halloumi cheese, the best babaganoush I have ever had (and that is saying a lot), flatbread pizza with mushrooms and ricotta, and lamb kebabs in yogurt sauce. Attentive service, outstanding food, and a lively atmosphere made Arabica a perfect place to end our morning.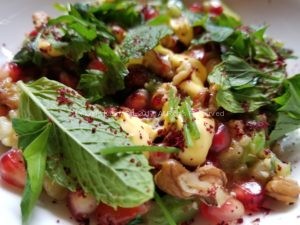 As we arrived back at Dukes, our upgraded room was ready, and we were in and asleep in the extremely comfortable bed within minutes.
PRO TIP: Plan some down time to nap, read, or whatever. You'll thank me later.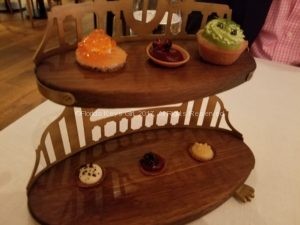 Refreshed well before our 8 PM dinner reservation, we strolled around Mayfair, taking in the shops, sights, and energy, and enjoying the cooler weather. After a long walk, we happened into a wine bar for a  glass of champagne before dinner. It helped that we were just a block from Pollen Street Social, our ultimate destination (and first, but not last, Michelin starred restaurant of the trip.)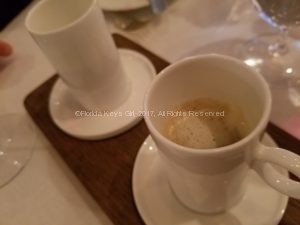 Pollen Street Social, which is probably worthy of a post on its own, is the brainchild of Jason Atherton and is at once cool, laid back, modern, and relaxed. It was amazing, with two exceptions. First, my biggest pet peeve: "Who would like to try the wine?" The answer should be obvious: the person that ordered it. But this person doesn't happen to have a penis, and that confused the sommelier. I said I would taste with a hearty eye roll. (The wine, a very young Crozes-Hermitage that had been unoaked, so drinkable and delish.)
Side note: most women have better palates than men, and those that say otherwise are overcompensating.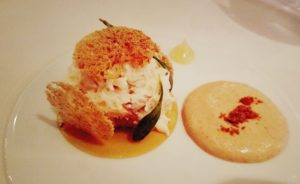 Once we got past that, everything else was truly outstanding. People in London are obsessed with allergies, and everyone asks what you cannot eat practically before you are seated. It is nice to know that I won't get poisoned by some rogue mayonnaise lurking in a dish. The regular amuse bouche has mayo, so they brought that to FKGuy and served me an entirely separate course of tiny bites.
Next up it was time for "Afternoon tea," another complimentary dish of the most flavorful mushroom soup. The first two courses were spectacular, and we had no say in what they were, so I was confident that the rest of the meal would not disappoint.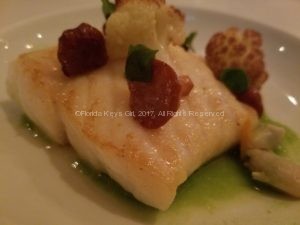 FKGuy had some sort of chicken and egg dish, and after one bite he announced that he was glad he didn't have to share it with me. It was that good. I managed to let him have a bite of my spectacular crab salad with tart lemon and sourdough foam. Entrees included a local lamb with lamb shoulder shepherd's pie and a delicious mint sauce, and a roasted turbot with cockle dressing and the tastiest roasted girolle mushrooms served with a cauliflower and yogurt puree. I can't possibly say enough about how good these two dishes were. Each perfectly cooked dish came impeccably seasoned and beautifully presented. And the mushrooms atop the fish were simply to-die-for. I could have eaten a whole plate of them.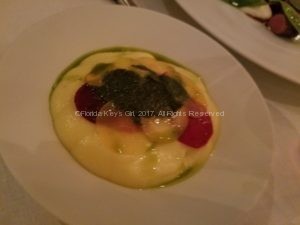 We had no room left for dessert, but there was a cheese cart, and it was stunning. With over twenty selections, it was a challenge to narrow it down to five. We left not a drop of cheese on the plate. When the cheese guy asked how it was, I looked sadly at the empty plate and said, "terrible". He replied, "I'll tell the chef." I quickly retorted, "You are the chef, at least for this course!" We had a good laugh, along with our 10-year old Blandy's Boal Madeira.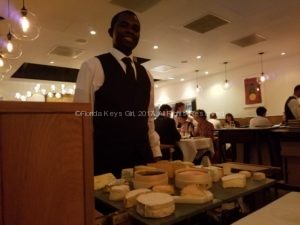 Pollen Street Social is expensive, as you would expect, but not stupidly priced, and is worth every cent. I can't wait for a return trip to London, and Pollen Street Social will certainly be on the list.